The Drop Spindle – Spindles Around the World Series #2
By Molly Ferriter –
7 Comments
| | |
| --- | --- |
| For post #2 of the monthly series, "Hand Spindles Around the World", we have the drop spindle! Probably the most popular type of spindle, particularly in the U.S. and Europe, the drop spindle is perfect for the beginner and the experienced spinner alike. With practice, all crocheters can learn to spin with a drop spindle. As you can see in the photo to the right, even Abigail, my four-year-old, is learning to spin! | |
As I wrote in the first post in the series, spindles come in two forms: drop spindles and supported spindles. Supported spindles come in many varieties, but the drop spindle comes in only three forms, the low whorl, high whorl, and center whorl drop spindle. A drop spindle works (like all spindles) by twisting loose fibers together, which binds them. They come in everything from very simple, plain forms, to highly decorated spindles that are carved and painted. I've even seen drop spindles with in-laid gemstones!


Even before I began spinning my own yarn with my very first drop spindle (still my favorite!), I was attracted to the beauty and craftmanship of many spindle craftsmen. My latest obsession is with the spindles made by Dave & Jo Stanbrough at "Grizzly Mountain Arts". They hand carve all of their spindles in an amazing array of wood types and styles. The picture to the left shows several of their spindles. Starting at the upper left and moving clockwise: The Holly and Walnut Top Spindle, The Victorian made from holly and leopardwood, The Carved Moose Antler Top Whorl, and lastly, the Giraffe Maple and Ash Top Whorl Drop Spindle. I didn't even know there was such a thing as "giraffe maple"! Click on the picture to the left to take you to their facebook page.
Parts of a Spindle
A drop spindle is comprised of three parts, a shaft, a whorl, and a hook. The shaft is basically just a straight stick, like a dowel. The whorl is usually disc-shaped, and works as a weight, which helps the spindle to spin. The hook is at the top of the shaft and guides the yarn. The hook can also keep the yarn that is already spun from coming unwound as you spin more yarn.
Low Whorl, High Whorl, and Center Whorl
Drop spindles come in high, low, and center whorl types. It is said that the high whorl spindle is better for finer yarn and the low whorl spindle is better for thicker yarn, though many spinners make all types of yarn on one spindle. I think its more a matter of preference as to which type you prefer and with which fiber, though I will say the high whorl is better for fine fibers like silk. That's just my opinion, of course. I'm just a crochet addict, not an expert.
In the low whorl spindle, also called a bottom spindle, the whorl is placed towards the bottom of the spindle. Low whorl spindles spin a tiny bit slower than the top whorl spindles. The top whorl spindle, also called the high whorl spindle, has a whorl that is placed at the top of the shaft. It is said that the top whorl spindle spins slightly faster and is usually lighter. In the center whorl, the whorl is located, well, in the center. I have heard so many opinions on which type of drop spindle is best for beginners, so I will just say- buy the spindle that calls to you. Whatever floats your boat!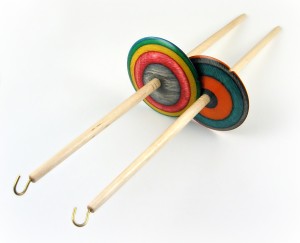 Park and Draft Method
Since this is a crochet site, I am not going to go into step-by-step directions for how to use the top spindle for now. However, there are numerous how-to videos on youtube that give wonderful directions and help for beginners. I learned how to spin my spindle by watching youtube videos. For beginners, the "Park and Draft Method" is the way to begin. Basically, it involves spinning the spindle, then "parking" it under your arm or other body part while you draft the fiber, allowing the spin to move into the fiber. Look up "park and draft method" on Youtube and you'll be on your way! Here is a video by Heavenly Handspinning on youtube to give you an idea:
Where Do I Get a Drop Spindle
Drop spindles come in all price ranges and can be found at many yarn and craft stores as well as numerous stores on the internet. There is also a wide variety of spindles available on Amazon and Ebay where I recently found a set of four top whorl drop spindles for $20! My first spindle was under $15 and included the fiber needed to get started. Further, I have seen all types of homemade drop spindles. A quick trip to the craft store or hardware store and you'll have everything you need to make your own. There are several videos showing diy drop spindles made with a variety of materials, such as cd's and plastic lids! But whether store-bought or homemade, it doesn't matter. Get out there and spin!
Crocheters and Spinners!
Through my search for information on spindles and spinning yarn in general, I have found that an overwhelming majority of information is written for knitters. I often wonder about this, as I know many crocheters who are also spinners. Crocheters unite! We must spread the word that crocheters are spinners, too!
How many Crochetspotters are also spinners? Leave a comment below with any questions or tell us about your experiences with the drop spindle!