The Importance of Having Multiple Crochet Hooks
By Veronica Smith –
34 Comments
Crochet hooks multiply! Well in my house they do and I have heard other people are in my position. So why do they?
There are many reasons why mine multiply and these are in no particular order. Hooks, or sets of hooks on sale, if they are a good price I tend to buy them – I don't really know why, I just do. Heading out to somewhere that I have an hour or two to crochet and I've forgotten to bring something to do so I purchase even more yarn and a suitable hook so I can make a scarf or square or something, I should probably just read, a magazine would be cheaper. Finding I have my crochet yarn and pattern with me and no hook, it probably slipped out of my bag and is in the car somewhere. When I actually get to cleaning my car out or vacuum under the cushion on the sofa I tend to find wayward hooks, it's like being reunited with an old friend. None of these things are really a reason to purchase new hooks but I am guilty anyhow.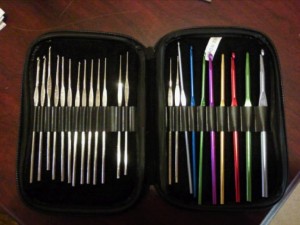 This leads me to why it is sometimes necessary to purchase more hooks. Have you ever found a half finished 'something' hidden somewhere strange and you have the yarn, the half finished masterpiece, pattern and NO hook? What do you do? Can you really grab the size the pattern calls for or did you change the hook at some point because your tension was wrong? Unless you have some super easy way to identify a particular hook in your house and you can write on the pattern what it was then you actually need to leave the hook with the project. At this point you either have to purchase another hook that size for your next project or simply make something that doesn't require it. Or do the logical thing and finish the first item – but who does that?
Another justifiable reason for purchasing multiple hooks of the same size is the usability. I have found that different yarns respond to some types of hooks better. Maybe a bamboo, metal or plastic one glides through better – sticking hooks just drive me nutty. Different brands also have different shaped ends/pointy bits and some split some yarns and others just won't go through the loop you need it to because it is rounded.
These are just my obsessional faults and observations. I am assuming however that some people feel the same and others are sure I have lost the plot and they manage quite successfully with one of each size and composition.
What sort of hook person are you? Do you have a lot of hooks?