The Different Types of Yarn Fibers
By Alicia Kachmar –
10 Comments
When planning out a crochet project, in addition to choosing yarn colors, you have to take into account the texture and functionality of different yarn fibers. Even if they are both worsted weight, for instance, using a bamboo cotton compared to an acrylic will change how your project turns out. What kind of yarn fibers are out there? What are the differences? Here is a general breakdown:
Synthetic/Artificial
Synthetic and artificial yarns consists of manmade fibers. Think giant Red Heart acrylic skeins that come in every color imaginable. While most synthetic yarns that I use are of the acrylic variety, there are also yarns made from nylon and polyester. Acrylic yarns are the result of highly involved chemical processes and are twisted as opposed to spun. They tend to be on the rougher and sometimes scratchier side (as opposed to cashmere and bamboo cotton), but yarn fiber technology has produced some softer varieties. Some benefits of synthetic yarns? They also tend to be cheaper than other types of yarn and come in a wide variety of colors.
A sub-category of synthetic yarns are the catch-all term "novelty yarns," which are of the curly, furry and fuzzy varieties, or anything with a distinctive texture. They can even be multiple kinds of yarn woven together and take the idea of "multi-colored" to the next level. Boucle and eyelash yarn are two specific kinds of novelty yarns and can add a lot of texture to a project and may be well-suited for trims or accessories.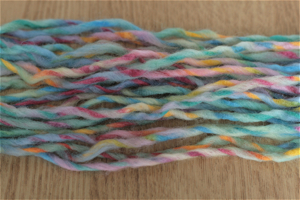 Natural
Naturally-derived yarns can come from two sources: animals and plants. Common animal-derived fibers are wool, silk, alpaca, cashmere and mohair. Wool yarns are good for those bulky winter projects where warmth is key, and luckily there are lots of not-scratchy options out there. It may cost you, however, as wool is spun from sheep and requires a process that relies on people not just machines. Just like buying garments in shops, fibers made from cashmere and mohair are pricey, but these types of yarn make for some elegant, extremely soft finished items. Unlike synthetics, natural animal fibers have "stretch" to them, which means they may alter when in contact with water. (Like when you felt with wool!)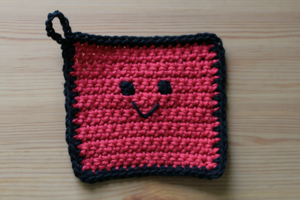 Some common plant-derived fibers are cotton, hemp, soy and bamboo, and most recently there are organic varieties of these if you are a green crocheter. Just as with clothing made from them, these kinds of fibers wash well without being altered and they are more lightweight. Cotton yarns are good for making dishcloths and socks, for instance, and some organic varieties are almost as soft as mohair, lending themselves to crochet clothing projects.
Are there particular types of yarn you prefer to work with?