Yarns for You Yarn Review: Be So Sporty by Kristin Omdahl
By Caissa "Cami" McClinton –
1 Comment
Woo-hoo! We're back with a very special yarn for you. I am very excited about this one because I've been a fan for ages but have just gotten into really working with this yarn. The yarn I'm reviewing is Be So Sporty by Kristin Omdahl. Kristin Omdahl is a celebrated crochet and knitwear designer. She is also an independent businesswoman and a single mom. After selling crochet and knit patterns, authoring many books, and partnering with Eucalan to create her own scent of wool wash, Kristin launched her yarn line, Bamboo So Fine. I've watched the line expand from one yarn weight to two, and from six colors to the current seventeen.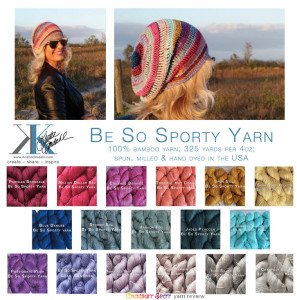 Yarn Facts: Kristin's descriptions really say it all! "Be So Sporty Yarn by Kristin Omdahl Yarns is a beautiful, 100% bamboo, sport weight yarn. Spun, milled and hand dyed in the United States of America; this lustrous and silky soft yarn gets even drapier and silkier after hand-washing in your favorite delicate wash. The colors are bright, saturated and inspired by tropical flowers and the sea." Are you interested? The yarn comes in hanks of 325 yards and Kristin has tons of pattern support in both crochet and knit. Be So Sporty Yarn comes in 17 colors that are great to wear.
What's this yarn like? It's so interesting! The bamboo yarn is really compelling and I like what I can do with it. I usually work with more pliable yarns but since I am in a warmer climate, working with fibers like bamboo and linen makes a lot of sense for me. The yarn is easy to work with and the colors are absolutely beautiful. I recently purchased the Be So Sporty Sampler Kit which includes samples of each of the seventeen colors, totaling about 400 yards of yarn. It also comes with three patterns. It was a treat working with the yarn and seeing how the colors work together. I am making Kristin's Slouchy Hat, which features a knit headband. I will have to figure out how to modify that to crochet!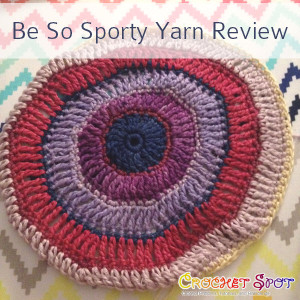 Kristin listed some surprising properties of bamboo in her newsletter. I thought I would share them here because it's such great information. She writes,
"I just love how much my Kristin Omdahl Yarns feel like silk! Slinky and sensuous, it drapes and moves like a far more expensive yarn, and also has exciting extra benefits.
Why Bamboo?
– Bamboo is softer than cotton, with a texture similar to a blend of cashmere and silk.
– Bamboo has twice the moisture absorbency of cotton along with extraordinary soil release.
– Natural antibacterial elements in bamboo fibre keep bacteria away from bamboo fabrics.
– Bamboo is eco-friendly and biodegradable.
– 100% bamboo yarns show great elasticity.
– A garment of bamboo fibre can absorb and evaporate human sweat in a split second. Garments made of bamboo keep you cool and comfortable and never stick to the skin, even during the hot summer.
– The anti-ultraviolet nature of bamboo fibre makes it especially suitable for summer clothing."
I had purchased a hank last year but wondered what I would make with it. To me this is a very special yarn, so I wanted to make something perfect. Well, the hank was passed around the yarn store a few times (to lots of "Ooo's" and "Aaahs") and I just finally got it back. I now have two gorgeous options, both patterns written by Kristin herself. My skein will become either this cowl or this scarf.
The texture of this yarn is smooth to the touch. It is plied with many smaller strands that are spun into the sport weight. While working on my slouchy beanie, I did get some splitting with this yarn, but I think it was due to the hook/yarn combo. I was not working with my favorite hook! Ripping back work made from this yarn is really easy as there's definitely no halo to tangle. The yarn is very strong and appears to be durable as well. Because the yarn is hand-dyed, there is some slight variation in the hank's saturated colors. In my sampler kit, I noticed the purple had the most variation but it was perfect for my project. I am looking forward to using this options for garments, accessories, and bags. To keep up with Kristin, subscribe to her newsletter. You can find back issues here.
Should I go shopping for this, and if so, where? YES! I recommend this yarn 100% with enthusiasm. The price is good for what you get, considering the high-end look of the yarn, the feeling, the versatility of the yarn and the incredible pattern support. Shop Kristin on Amazon or on her Etsy shop.
Had you ever heard of Kristin Omdahl before this? Have you tried her yarn yet? Which projects do you think would look great with this yarn? What other information would you like to know about the yarn? Which yarns would you like to see reviewed on Crochet Spot? Please leave your thoughts, ideas, and points of view in the comments below!