Yarns for You Yarn Review: Aesir by A Hundred Ravens Yarn
By Caissa "Cami" McClinton –
Be the first to comment
Today's Yarns for You selection is a very special, indie-dyed confection, Aesir by A Hundred Ravens. A Hundred Ravens is an independent yarn company that I learned about when I visited Stitches Midwest in August. I was drawn into their booth because of the gorgeous array of bold colors and interesting combinations. I purchased the skein I'm reviewing today. It was a splurge, but I'm happy I did it!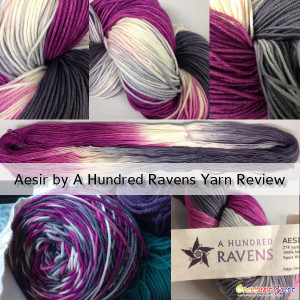 Yarn Facts:
Aesir by A Hundred Ravens is 100% superwash wool spun into a sport weight, eight-ply yarn with a soft and relaxing hand. Described as a yarn that "works hard and plays hard", its weight and washability suggest children's and baby projects. It would also be great for one-skein cowls or slouchy hats. The website describes knitting gauge at 22-26 sts on 3.5mm to 4.0mm needles, so I swatched 30 stitches on a 4.0 mm hook. I got the following gauge for 4″ square UNBLOCKED in seed stitch: 22 stitches across and 20 rows high. Indie dyers are all about the COLORS and right now the yarn is listed on their website in
a diverse palette of 43 colorways
ranging from deeply complex solids to inspiring vareigations that cause my hook to twitch!
What's this yarn like? Colorful, soft, and lovely to work with. My favorite thing about this yarn is how inspiring the colorways are. During my swatching, I was loving doing seed stitch because I was looking forward to how the colors would play with each other.
I feel like this is a true sport weight yarn, which is good information when planning projects. Sometimes when I wash and block my projects made from indie dyed yarn, the water turns murky. While this doesn't necessarily take away from my enjoyment of the yarn, I do find it disconcerting. This yarn did not do this. HOORAY!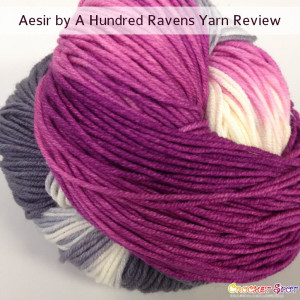 The texture of this yarn is cabled, but it feels smooth to the touch. It's strong because it's constructed of four two-ply strands spun together. The fact that it is 100% superwash Merino makes it soft and easy care. Can't go wrong there. I have experienced a small amount of splitting with this yarn, but it was nothing major. Ripping back work made from this yarn is not a problem. The yarn doesn't have a halo and retains its smoothness when crocheted. I was able to break this yarn with my hands by pulling very hard. I like this property of the yarn because I don't always have scissors on hand.
What Could I Make with This? Why not Rachel's Striped Eyelet Wrap Sweater? Maybe the Hyacinth Cowl? Perhaps the free Slouchy Beanie? What about a precious Newborn Baby Hat? There are so many possibilities!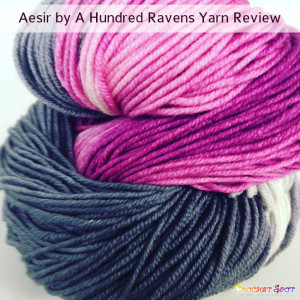 Should I go shopping for this, and if so, where? If you want a special treat, then of course! Sometimes we only stick to the craft store and big box stores, but I think that shopping in local yarn stores, at festivals, and online for special yarns is a lot of fun. Yes, you will see a difference in the price tag, but the uniqueness and quality of the product could make you beam with joy! Visit the A Hundred Ravens website to shop.
Over all I find this yarn to be great to work with and wonderful for a special project. After I'm done with this post, there will be chevrons!
Have you ever worked with Aesir by A Hundred Ravens? If so, what did you think? Which projects do you think would look great with this yarn? What other information would you like to know about the yarn? Which yarns would you like to see reviewed on Crochet Spot? Please leave your thoughts, ideas, and points of view in the comments below!