Win Free Yarn from A Hundred Ravens
By Caissa "Cami" McClinton –
Be the first to comment
Yes! I said free yarn! Remember when I reviewed Aesir yarn by indie dyer A Hundred Ravens? Well, I am delighted to announce that the company has generously offered to sponsor our Finish in '15 contest with a prize! While figuring out what to offer, Kate Bachus, the owner of A Hundred Ravens asked if I thought we would like a mini-set! I said yes because crocheters love colorwork. Am I right?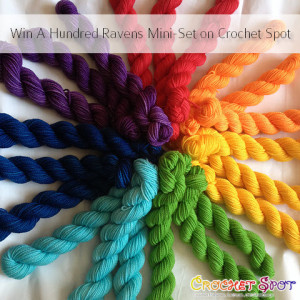 I decided upon the above minis after poring over the website and thinking about which patterns Crochet Spotters might like to use the yarn with. The yarn we're giving away is called
Iachos
, which is a fingering weight, 4-ply superwash 100% Merino wool. The winner will receive seven mini skeins in the colors Apollo, Flaming June, Lannister, Catherine of Aragon, TARDIS, Namorita, and Trefoil. Each skein approximately 14 grams, 55-57 yards for a total Set a total of 400 yards and 100 grams.
Here are a few Crochet Spot patterns that would work great with the A Hundred Ravens Mini-Set.
Ten Patterns that Are Perfect for Partial Skeins
Hot Air Balloon Applique
Super Simple Baby Socks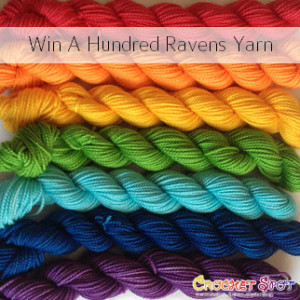 So the yarn you'll receive will look more like the above picture when it arrives in the mail.
And, I am excited to announce that this wonderful prize is open to international Crochet Spotters! This is because of the generosity of A Hundred Ravens Yarn! In order to enter to win this fabulous prize, please visit our Finish in '15 post for 4th quarter entries.
All past entries that haven't yet won are still eligible, but please enter again with new work to increase your chances!
So what about you, my friends? Are you busily finishing up your holiday gifts? If so, snap a pic and enter! Do you like the rainbow mini-set? Please leave your thoughts, ideas and questions in the comment section below.