Finish in '15 Contest – New Prizes! Free Yarn! Enter Now!
By Caissa "Cami" McClinton –
4 Comments
Heeeeyyyyy! Remember how we started this cool contest all about finishing our WIPs and UFOs in 2015? Remember, it wasn't a resolution, it was a CHALLENGE! And like all good challenges, there are rewards. And guess what? The rewards get better as we go along! Read on, 'cause this is BIG & involves FREE YARN!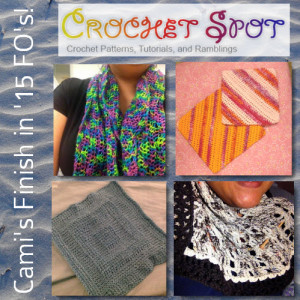 So! The second quarter of the Finish in '15 contest is coming to a close on June 30. We've racked up a bunch of great entries in this post, which you should visit to learn how to enter. (Basically you just finish something, ANYTHING, and email Rachel or fill out a form. Otherwise, you could rip out whatever you were working on and get your yarn back!!)
Please note that ANY crochet project you finish in '15 is eligible to enter. Look at all the yarn I got back in that picture down there!! I am already working the brown yarn into something new. For your yarnbacks, here's a tutorial about how to wind into a center pull ball.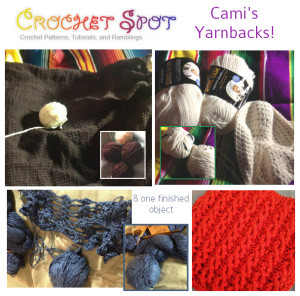 Since I'm not eligible to win the contest, I wanted to let you all know that I'm still playing along!! Get stitching & get ripping because you're going to love these prizes!
For the first quarter, we offered a free pattern from the Crochet Spot store, or a free month of membership for members! There is so much to love there. Rachel & the team just keep coming up with more and more must-stitch patterns. It's an awesome prize valued at up to $10.00.
This quarter, we are offering that AND a free book AND FREE YARN!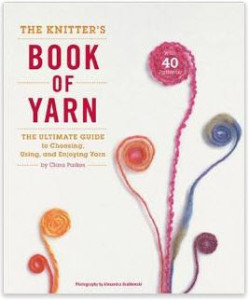 The book is a classic for your yarn crafting library. It is called The Knitter's Book of Yarn: The Ultimate Guide to Choosing, Using, and Enjoying Yarn. I adore this book and I happened to have an extra copy, so this is prize I am donating to the cause. It's all for you, Crochet Spotters! Bascially, the book tells you all about different types of yarn. It explores different fibers, their characteristics, and how you should care for them. If you like textiles this book is for you. It's great to have in your library and has become the go-to reference book on yarn for the industry. Please note: Crochet Spot can ship this item to U.S. entrants only. This prize retails for $30.00. Please note that the links to Amazon are affiliate links to support Crochet Spot.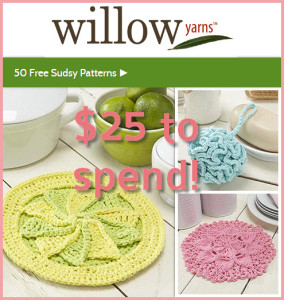 Did I mention that you could win free yarn!? Willow Yarn Company has generously offered a $25 gift certificate to one lucky winner in our Finish in '15 contest! They also have a lot of free and pay patterns to try, so you can check those out as well. You never know… maybe some of your yarnbacks will find a new life as a Willow creation! This prize is open to everyone, as Willow Yarns ships to many countries internationally! (You can check on their website to see if they ship to your country.)
Get those entries up! If you didn't win last quarter, your entries from then are still valid. There is no limit to the number of times you can enter. Winners will be drawn at random sometime during the day of June 30 and will be contacted by email shortly thereafter. The winners will be announced on the blog in early July.
Alright, are you ready to enter yet? Which Crochet Spot pattern would you choose if you won? Which yarns would you buy from Willow? Please leave your thoughts, ideas and questions in the comment section below. Get going!!