Winding Yarn into a Center Pull Skein
By Erin Burger –
20 Comments
A center pull skein is a skein of yarn (or ball of yarn) that you pull the yarn from the middle while working on a project. This way ensures that the ball won't roll around or get wound up with other yarns. Also, with a center pull skein you can stick it into your pocket and crochet while you're strolling around. I do this all the time, mainly when I'm taking my kids to the park or even during their bath times!
Though this is one of the best and convenient ways to wrap yarn, if you notice that a yarn is easily knotting or are getting wrapped up in itself, it might not be a suitable yarn for a center pull skein.
A lot of crocheter's (and knitters) I have met over the years each have their own way of starting a center pull ball, but it's essentially the same regardless of what 'apparatus' you use at the very start.
The method described below are fine for starting from either a ball, skein, cone or hank.
1: Wrap yarn around between two pencils (or two fingers, two markers, or any cylindrical objects will also be fine), leaving long tail wrapped between the two and trailing away.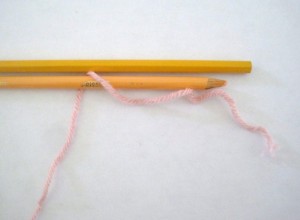 2: Wrap the yarn around both pencils 8-15 times, not to tightly, but not too loosely either.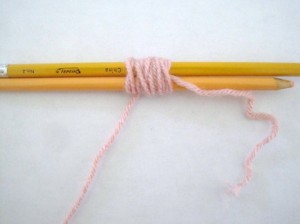 3: Slide the wrapped yarn off of the pencils and hold the yarn with your forefinger and thumb. Begin to wrap yarn around in a clockwise motion around the held between your forefinger and thumb, all the while leaving the long tail alone to hang out the middle of the yarn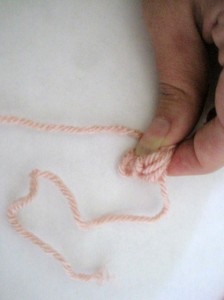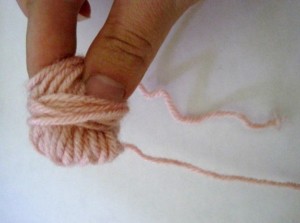 4: Continue wrapping while rotating the ball in a way that leaves the long beginning tail somewhat exposed. So wrap the yarn around 12-20 times, rotate, wrap again, rotate, wrap again. Try to keep the shape round and the center pull exposed.
See how easy?
Have any questions or tips about rolling a center pull skein? Comment here!