Finish in '15 Second Quarter Contest Winner!
By Caissa "Cami" McClinton –
Be the first to comment
Hooray! We have three lucky winners of the prizes in our Finish in '15 Challenge!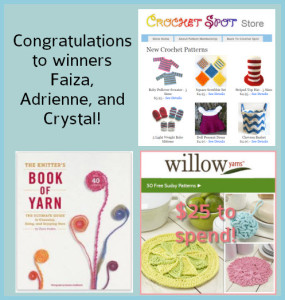 We were psyched to be able to offer three great prizes this quarter and now we have to top ourselves for the next round, but so do you! We want more entries and you want more prizes, right? Let's make each other happy! 🙂 These fab crochet winners rallied to enter the contest, which Rachel and I have simplified. It couldn't be much easier if you still want to finish or frog your items. (And you know you want to.)
To Enter:

1) Email your crochet before and/or after pics to [email protected]
OR
2) Complete the entry form by following this link.

Don't forget: Your WIPs can be anything you're working on or finished! They don't have to be projects that you haven't touched for months. You can enter any crochet WIP that you finish or frog into the contest.
So are you psyched, my Crochet Spotters? Are you ramping up your frogging and finishing powers so you can add to our roster of entries? Please leave your thoughts, ideas and questions in the comment section below.