Win A $50 Yarn Prize Pack from Red Heart
By Caissa "Cami" McClinton –
7 Comments
Yes! You read that correctly. Red Heart, who has been one of the most trusted brands in yarn for over 75 years, is generously offering an exciting yarn prize pack to one lucky Crochet Spotter! This prize pack includes 10 skeins of various Red Heart Yarns, and you get to try them all! It also includes a Red Heart tote bag to crochet on the go.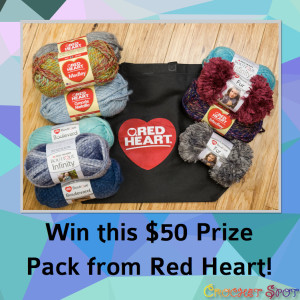 Read on to see how you can win!

I would be willing to bet money that you have crocheted with Red Heart before. (I am sure that some of you have Red Heart on your hooks right now!) But have you tried all of these yarns? As they say, "Whatever your creativity calls for, you'll find it in the Red Heart family." Well, you get to try five different types of yarn if you win this prize package!
You could win Red Heart Grande Metallic, which looks fluffy, warm, and beautiful. It's perfect for the larger-scaled projects that are so popular right now! I see there are two balls of Boulevard in the prize pack, and two balls of the gorgeous Medley yarn. Medley combines 2 plies which are dyed separately and then twisted together into the perfect, bulky acrylic. Boulevard is unique because it is superbulky but lightweight. I would break out the really large hooks and make some extra-warm baby stuff with that!
You can show off your flare with 2 balls of Boutique Fur, which I think would work really well as a furry pom pom on the top of a hat or at each end of a scarf. Finally, You could get two balls of Boutique Infinity! Infinity combines a subtle metallic and an enchanting, gradual shading of colors. The yarn is designed to make an infinity scarf with just one ball.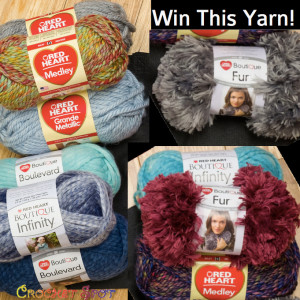 Here are a few Crochet Spot patterns that would work great with the Red Heart Prize Pack.
Easy Slip-On Neck Warmer
Crossed Cowl
Classic Pillow Cover
Sandman Aromatherapy Pillow
And, I am happy to announce that this wonderful prize is open to Crochet Spotters in the United States, Canada, and Mexico! This is because of the generosity of Red Heart Yarns! In order to enter to win this fabulous prize, please join our Oscar Mystery Crochet Along and send a picture of your finished Oscar Mystery Cowl to [email protected] by March 13, 2016.
That's pretty impressive, right? Do you have your hook and yarn ready for the Oscar Crochet Along? Which of these yarns would you like to try the most? Please leave your thoughts, ideas and questions in the comment section below.