Oscar Mystery CAL Recap
By Caissa "Cami" McClinton –
Be the first to comment
Hooray! I am very glad to say that the first Crochet Spot Oscar Mystery CAL was a success! The Oscar Ceremony took place on Sunday, February 28 and ran for three long hours! With my crochet hook in hand, I enjoyed the ceremony much more (and I wasn't the only one!)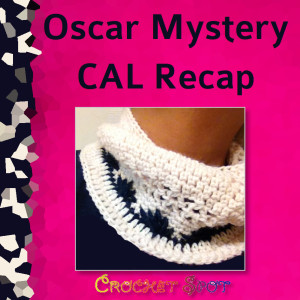 Read on to learn more about the Oscar Ceremony and the fun Mystery CAL!

Using the pattern that corresponded to my name, I began my cowl with the first section – The Red Carpet. Just two rounds of double crochet. As I watched the stars in their lovely gowns and chuckled at the opening monologue, I worked this section.
The Academy awarded many statues that evening, but the first that was included in our pattern was Best Supporting Actress, which went to Alicia Vikander for her work in The Danish Girl. I was surprised that what I had to do was exactly what I had done in my sample cowl – 3 rounds of camel stitch! This gave me something to work on as they gave awards for costumes and makeup.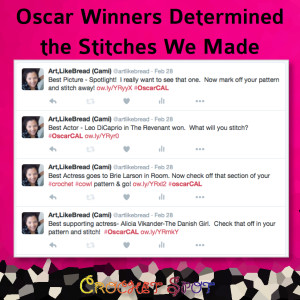 By the time the Girl Scouts were selling cookies, I was ready for my next section. After a while, they announced our final three awards in rapid succession. In fact, I was still working on the Best Actress stitches at the end of the ceremony. For those keeping track, Brie Larson won Best Actress for her work in Room. Leo DiCaprio won Best Actor for The Revenant, and Spotlight claimed Best Picture.
I finished the cowl a few days later, and I must say that it's kind of cute! It was fun reading everyone's comments about the experience. Julie had a great time!
Was sooo excited about doing this activity… The first one I have ever done…. Watched the entire program and had enough time to complete before the next award was announced except for the last 3… Stayed up and completed all but last row…. Loved the experience… Learned 5 new stitches, which I never would have learned otherwise…. My second last row for "best picture " was all single crochet, so changed to the one I wanted to win… Which was "extended crochet"…. Another new one… So off I went… Talked about my experience all day today… Knitters and crocheters were fascinated… Non yarn ppl were bored(I think)
One question….on the right side saying "after party" says double crochet.. Then right underneath says " final row".. They are exactly the same… Should I do final row too???
Am such a rule follower… But kept saying this is for fun,,, so let go of the fact that my final count was 86 stitches… Looks fine and am really pleased with the final outcome…. Thanks for the experience
This is exactly how I wanted the participants to feel. I am so glad to hear this and I hope that everyone enjoyed it! Be sure to check out everyone's lovely handiwork in the entry post and check back after March 13 to find out who the CAL winners are.
So what about you, my friends? Did you give the CAL a try? Did you get to watch the ceremony? What did you think about the winners? Please leave your thoughts, ideas and questions in the comment section below.