Oscar Mystery Crochet Along Update!
By Caissa "Cami" McClinton –
12 Comments
The Oscar Ceremony on February 28th is right around the corner and (not without controversy) the nominees have been announced! I am delighted with the amount of interest in the Oscar Mystery Crochet Along. Thank you! You have also asked some great questions, so hopefully after this post, all will be a lot clearer.
I am excited to provide you with a sneak peek of one of the award badges, and a preview of the stitches we will use! All of the stitches we will use have a photo tutorial on Crochet Spot, so you can feel free to practice before the event!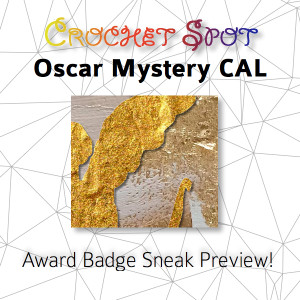 Structure of Cowl
The cowl will be divided into 6 sections – Red Carpet, Oscar Ceremony (4 sections), and After Party. The Red Carpet and After Party will be the same for everyone. The Oscar Ceremony sections will be determined by who wins in each of the following categories: Best Supporting Actress, Best Actress in a Leading Role, Best Actor in a Leading Role, and Best Picture.
The cowl is meant to be worked in the round, but could be worked flat if the crocheter wishes. If worked flat, the crocheter must join the cowl into a loop during the "After Party." If worked flat, the cowl can be joined with buttons.
Each participant will download a pattern that provides instructions determined by each and every nominee in our 4 categories. After a nominee wins, you crochet the corresponding rows/rounds into your cowl.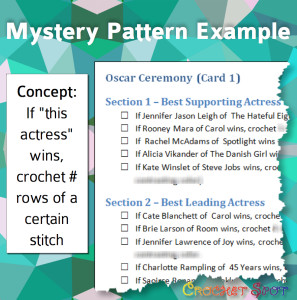 Leading Stitches
Single Crochet
Spike Stitches (will need small amount of contrasting color yarn)
Spike Cluster Stitches (will need small amount of contrasting color yarn)
Extended Single Crochet
Half Double Crochet
Camel Stitch
Double Crochet
V-Stitch
Treble Crochet
Front Crossed Stitches
Double Treble Crochet
Supporting Stitches and Tutorials
Chain
Join with Slip Stitch
Foundation Double Crochet
How to Join Foundation Double Crochet in the Round
Crocheting A Tube in the Round (coming soon!)
Whip Stitch
To Win
1. Download the appropriate pattern for your first name.
2. Complete the crocheted cowl and send Rachel a picture by Sunday, March 13, 2016.
3. All participants will receive the beautiful "Nominee" digital picture/badge.
One random winner will receive the "Best Supporting Crocheter" Award.
One random winner will receive the "Best Crocheter" Award. – The yarn award will need to be shipped to a United States address!
Are you getting excited? What other questions do you have about the CAL? Get your hooks and yarn ready! Please leave your thoughts, ideas and questions in the comment section below.