Willow Yarns Daily DK Review
By Caissa "Cami" McClinton –
4 Comments
Isn't it exciting to find a new product or company that you just love? Well, that's how I feel about Willow Yarns. The company is new to me, but what a wonderful product they have to offer. I don't even remember how I heard about them, but I am glad that I did because they just provide another affordable option for getting good yarns. And what I love about their website is that they give free shipping on orders larger than $50, so if it is time to stock up, they are a good option.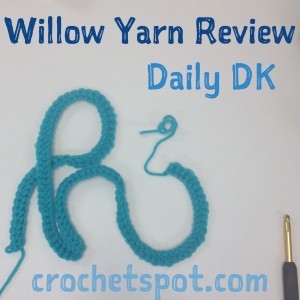 This is a review of Willow Yarns Daily DK. I received a sample from Willow Yarns. I was immediately impressed with the squishiness of this fat ball of yarn. At 100 grams and 284 yards, it is a generous put up and for that reason and others, I think it would be great for garments. At 284 yards it's also good for one ball projects.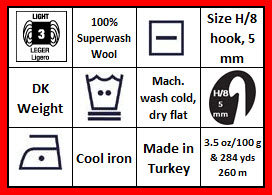 I like that the yarn is superwash wool, making it easy care, so it would be good for baby stuff. Incredibly, they stock – wait for it – 80 colors of this yarn. So, you really can make the garment or object you desire.
I have just begun crocheting on my work in progress (a cowl), so I can give you some observations about the yarn. First of all, it is on the thicker side of DK and may work for some lighter worsted projects. It's always best to swatch, of course! I like the way this yarn feels while running through my hands. It's not one of the super duper soft wools that just melts like butter in your hands, but it's not scratchy either. It feels soft and comforting: a great, basic, versatile yarn for you.
I enjoy crocheting with this yarn. Although it is an "S-twist" yarn (meaning it is made for knitting), it does cooperate with the crochet hook. I am super-excited about my cowl and I can't wait to share it with you when I'm finished.
So what about you, my friends? Have you had the opportunity to try Willow Yarns Daily DK yet? If so, what did you make, or if not, what would you make? Please leave your thoughts, ideas and questions in the comment section below. Thanks for reading!