Stitches Midwest 2015 Recap
By Caissa "Cami" McClinton –
1 Comment
Attending Stitches Midwest for the first time was like going to a crafty playground! There was so much there – so many colors, so many tools, so many people… And we all had something in common – fiber crafting! It was a lot of fun to go to this event, which was unlike any other I have attended. I took classes, shopped the marketplace, and networked. I had a lot of special experiences during the four-day event. There is a lot to process for sure, but I am happy to share a bit of my experience with you here on Crochet Spot.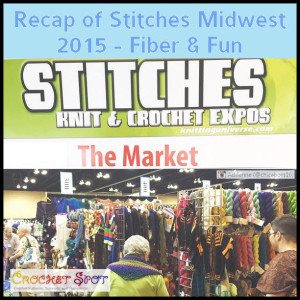 The Prices
Stitches Midwest took place in Schaumburg, IL (near Chicago), on August 6-9, 2015. The class schedule began on Thursday, August 6 and the Marketplace ran from August 7-9. Although parking was free at the beautiful convention center, there was a nominal fee to enter the marketplace. Classes ranged in price, running from free (with marketplace admission) for one-hour "How to Knit" and "How to Crochet", to approximately $60-85 for longer classes with advanced techniques from seasoned experts. They were also running special one-hour "Marketplace Sessions" at $25 each for various techniques. I chose to attend a Marketplace Session with my crafty partner – my mom! The cool thing was that we could get admission to the marketplace for all three days included in the price of our Marketplace Session. Additionally, we were invited to the two-hour marketplace preview on August 6! We thought that was pretty cool.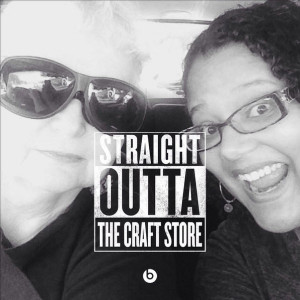 The Classes
We attended a class, Finger Crochet with Marty Miller. Marty Miller is a prolific designer and crochet doctor. In this class we learned the basic techniques of finger crochet and were inspired to create different scarves and cowls using the technique. I wrote about the finger crochet technique here on Crochet Spot, but I was very glad to have met Marty Miller and to have learned more about it from her. Mom & I even got to meet Nicola from Fave Crafts in the class!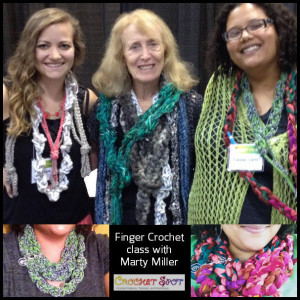 We also attended the "Learn to Crochet" and "Learn to Knit" classes with the incomparable Marly Bird. She is a great designer & podcaster in the industry and I've learned a lot from her. It was great for me to be in an introductory knitting class, because it reminded me how clumsy it can feel to learn a yarn craft for the first time! That darned knit cast on! Here is a link to my mom doing her crocheted chain!
The Marketplace
Oh. My. Yarn. The theme of this marketplace for me was indie dyers. Indie dyers are craftspeople who buy undyed yarn and work their magic to dye yarn into gorgeous colorways. Shopping with indie dyers is a great way to find unusual yarns and fantastic color combinations. I literally have hundreds of things to say about the indie dyers I met at Stitches, but I am going to mention just one today. I will be reviewing more in the future, both here and on my personal blog!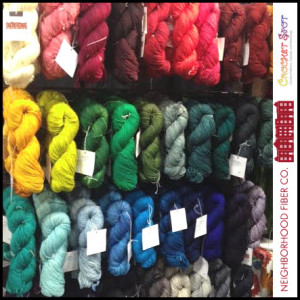 Neighborhood Fiber Company
is a two-person company out of Baltimore, MD. They feature vibrant, one of a kind colors inspired by urban landscapes. The yarn comes in various bases, from bulky to fingering weight, wool to silk. All I can tell you about this yarn is that you have to see it in person. The colors are so rich and varied, it is literally impossible to understand all of the depth they carry by looking at a picture. I first heard about this company on
The Yarniacs
podcast. It's great listening.
I have so much more to say, but I think I'll have to stop here for now, but stay tuned because I might have just picked up a prize or two for our Finish in '15 contest. Just sayin'…
So what about you, my friends? Have you ever found your crafty playground at a conference or even the craft store? Do you think that Stitches Midwest sounds like fun? Do you know of any great indie dyers you'd like to see on Crochet Spot? Please leave your thoughts, ideas and questions in the comment section below.