Tips for Finding & Enjoying a Crochet Conference or Fiber Festival
By Caissa "Cami" McClinton –
4 Comments
Ahhh! As I am writing this I am eagerly anticipating all the yarny wonder of the famous fiber event, Stitches Midwest. By the time you read this, the event will be over, but as it turns out, there are a number of crochet conventions and fiber festivals all over the world (and even at sea!)
How does one find a fiber festival? How can one make the most of the time there? Read on for my (lengthy but nowhere near comprehensive) list of crochet conventions and fiber festivals and a few tips for saving money and enjoying the event!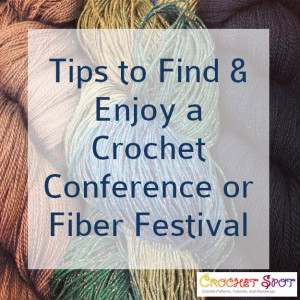 Finding Your Event
I found out about these crochet conferences and fiber festivals by listening to podcasts. The ones that I have heard the most buzz about from podcasters are the
Stitches
events put on by Knitting Universe. Perhaps this is because a lot of podcasters attend these Stitches events and also because there are five events per year all over the United States.
Other events favored by podcasters are the New York Sheep & Wool Festival, known as simply "Rhinebeck", Maryland Sheep and Wool, and The National NeedleArts Association events held twice a year. I've also heard a lot about Vogue Knitting Live, which is held in New York and Chicago. I've also heard a little bit about some crafting cruises on podcasts. (Can you tell I listen to a LOT of crafting podcasts?)
With the above information, I set out to do a little research for this post. Not only did I find the links you see above, but by searching for "Sheep & Wool Festival", "Fiber Festival", "Knitting Conference", and "Crochet Conference", I found a great deal of interesting events taking place all over the world!
United States
Crochet Guild of America Conference They occur twice yearly.
Vermont Sheep & Wool Festival
Massachusetts: The Big E
Massachusetts Sheep and Wool
Adirondack Fiber Festival in New York
Pittsburgh Knit and Crochet
North Carolina's Kanuga Knitting Quilting Retreat
Michigan Fiber Festival
Wisconsin Sheep and Wool Festival
Iowa Sheep and Wool Festival
Taos Wool Festival in New Mexico
Nordic Knitting Conference in Seattle, Washington
Various Locations
Knitter's Review Event List
Knit Happenings
International
Craft Tours Crochet Cruises to Ireland and New Zealand
Craft Cruises They are gauging the interest in crochet. No crochet cruises scheduled at this point.
United Kingdom Crochet and Knit Events
Tips for Enjoying a Crochet Convention
A crochet conference or fiber festival is a great place to take classes to increase your skills, meet and network with other hobbyists and industry professionals, and stock up on uniquely beautiful yarn and crochet accessories. Who knows? You may even pick up a new fiber craft while you're there. I learned how to needle felt at The Craft and Hobby Association (CHA) Supershow in 2010.
Plan Your Food to Save Money
Let's face it: you're there for the yarn. Unless your convention boasts special food booths that you will enjoy, assume that you can save money by brining at least some of your provisions with you on the days of the festival. If you are staying in a hotel, they may have a continental or full breakfast included in the cost of the room. If so, eat a big breakfast and grab an orange or a yogurt for a mid-morning snack on the convention floor. Bring a travel mug and fill it with coffee in the hotel or brew it in your room before the show. Buy enough bottled water for your trip at a Target, CVS, or grocery store and use them throughout the time you are there. Another great snack to pack is granola bars or fruit. Keep these with you to keep you going and moving towards the yarn! Mints, gum, and cough drops are also great to have with you on the conference floor.
Dress Comfortably
These convention centers and fair grounds are big. Dress for comfort. Comfortable walking shoes are appropriate. A crocheted accessory would likely be recognized and appreciated!
Take a Class or Two
If you take too many classes, you may become overwhelmed. Usually these events have a marketplace as well, so you need to make sure you can explore that as well. I think it's fun to take your class with a crafting travel buddy. My favorite crafting travel buddy is my mom!
Explore the Marketplace
Yes, it's true. It's really hard to resist the amazing booths and vendors at these fairs. And why should you? Well, unless you have an unlimited budget, making rent is a good enough reason! My advice is to go with a set budget (maybe in cash to reduce overspending if it is safe) and don't go over that!
Take a look around at everything and make a mental or physical wishlist and then go back and buy the stuff when you've decided what to spend on. You may feel pressure to buy in the moment, and sometimes the colorway or item you want will sell out, but maybe you can take the approach that if it's not there when you come back, it wasn't meant to be.
Be Present in the Moment
It is easy to get caught up in the whirlwind of input and inspiration. I know I am always making plans and notes, snapping pictures, and squealing at the next cutest project! Every now and then, take a moment to appreciate how amazing it is that everyone there has such enthusiasm for fiber and fiber crafts. Take a moment to journal. Take clear notes. At the end of the day, process by journaling in detail or even speaking into a voice recorder in order to process all you've seen.
Network and Make Friends
It's great to connect with people who like what you like. Make your Ravelry handle and online names known. Meet and exchange information with vendors and fiber fans. If you get business cards, make a note on the back that reminds you of who you met and what you talked about. Follow up with an email, facebook message, or tweet. Post pictures to social media if you'd like and tag your new friends. Have fun and keep in touch!
So what about you, my friends? Do you think you're ready to find and enjoy a fiber festival? Have you ever attended one? Do you have any tips to share with fellow Crochet Spotters? Please leave your thoughts, ideas and questions in the comment section below. See you at the festivals!