Garden State Sheep and Fiber Festival
By Candace –
Be the first to comment
Well, I recently went to another fiber festival, the 2016 Garden State Sheep and Fiber Festival, which means I went on another search for crochet samples in the vendors' booths. This go-round, I met with success. Check out these shawls!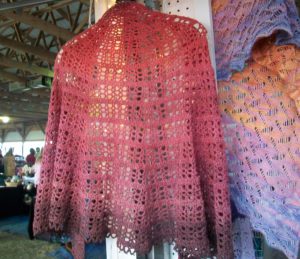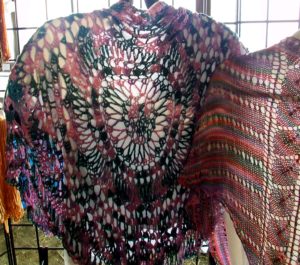 It's so nice to see crochet projects worked up in the "good stuff." After all, knit and crochet fabrics can be very different, and a row of dc isn't going to look anything like a row of knit stitch.
In addition to the samples, I ogled the yarn, naturally. I also brought a little home with me. Lately I've been drawn to speckled yarns. I love the look of them and can't wait to begin experimenting and designing with them.
Of course, the Sheep and Fiber Festival isn't complete without sheep (and rabbits and goats and alpacas and…). I had to make sure to stop in the barn to see the sheep in pens, and I even stopped to watch some of the herding demonstration.
All in all, I really enjoyed myself. It may not be a big festival that people flock from all over to like MDSW or Rhinebeck, but it's definitely worth a visit if you're local and love yarn and fiber. If you have a small local festival, give it a shot and go! It's a great opportunity to learn about local businesses (and buy their yarn and tools).
Have you gone to a festival recently? Which ones are your favorites to attend? What crochet goodies did you pick up?