4 Great Ways to Boost Your Crochet Skills!
By Caissa "Cami" McClinton –
Be the first to comment
Crochet is a hobby that will never let you down. No matter how long you've been crocheting, there is always something new to learn. There will always be another technique, pattern, or yarn and hook combination that will send you into a different direction. And even if you know well beyond the basics of the craft, there will always be great techniques and tricks that individual crocheters will come up with. Crochet is very individual.
The purpose of this post today is to challenge you to think of crochet in a different way. In order to do this, I am offering you four great ways to boost your crochet skills. I hope that whatever you choose to do to increase your skill set will be a pleasure!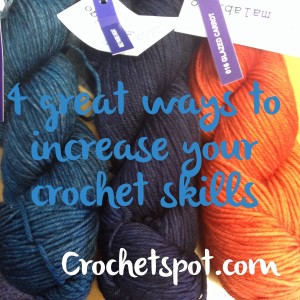 1. Brush Up on Techniques Using Online Tutorials. Since you're already here on Crochet Spot, you don't have very far to go to find a wealth of varied tutorials to boost your crochet skills. Rachel has created and collected many in-depth photo tutorials ranging from basic to advanced techniques. Want to try hairpin lace? Tunisian crochet? Broomstick lace? Crocheting with a Peruvian loom? Don't forget that you can mouse over the photos to see the left-handed views!
2. Learn Using a YouTube Video. If you type the search term "crochet" into YouTube, you'll get over 1.25 million results. Clearly there is no dearth of YouTube crochet tutorials. On the plus side, they're free and it can be fun to follow a YouTube personality if they release new videos regularly. On the other hand, the quality of the videos can vary greatly. I'll share my favorite YouTube crochet video. It's about the bullion stitch. I've used this technique to make perfectly beautiful bullion stitches which are typically very challenging. (Yes, the video I've chosen is in a foreign language, but it's very easy to follow even without understanding the language.)
3. Take a Class! Yes! I am completely in favor of Crochet Spotters making a trek to your local yarn store and signing up for any crochet classes they may offer there. If they are not offering crochet, request it! You'd be surprised how popular crochet classes are. Not only is it a great way to pick up tips, learn a new technique, and set aside time for crocheting, you can also meet new friends who share your hobby! Online classes from Interweave, Annie's and Craftsy are also great options except you don't actually meet people in person!
4. Join Your Local Crochet Guild. Even if they call it a knitting group or crafting group, it can be great to crochet with your local crafters. If you can't find your local Crochet Guild, you can actually start one! I love crocheting with my group and I've learned a lot just by observing more experienced and talented crocheters.
So what about you? What are your best tips for increasing your crochet skills? Please leave your thoughts, ideas, and questions in the comment section below! Learn more!!