Yarns for You: Patons Silk Bamboo
By Caissa "Cami" McClinton –
4 Comments
Hello, Crochet Spotters!! Thank you for reading this first edition of Yarns for You! I was so glad to have heard from you on the introductory post, and there's still quite a conversation going on there. That is exactly what I wanted for this series, so – AWESOME!
Today's Yarns for You selection is the beautiful and smooth Paton's Silk Bamboo.
Yarn Facts: Paton's Silk Bamboo is a blend of 30% silk and 70% bamboo, resulting in a lovely and durable light DK weight yarn. It's hand washable, and should be dried flat. A size G/6 hook is recommended to acheive a 4″x 4″ (10 cm x 10 cm) gauge swatch at 16 sc across and 20 rows up. Right now the yarn is available in 19 rich colors and jewel tones that are perfect for garment and accessory crafting.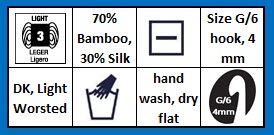 What's this yarn like? In a word: heaven. I adored crocheting with this yarn because working this smooth and sleek yarn was easy and made crocheting even more relaxing. This yarn was a joy to handle and the stitches worked up evenly and looked beautiful.
There is a bit of a shine to this yarn, and while it was still wound on the ball, I detected a little bit of fuzziness, sometimes called a halo. I attributed this to it having been handled quite a bit while still in the store as it was a great deal clearance yarn! I haven't detected the same halo on my project, but I just finished it, so I will let you know in the comments if I run into this over time.
This yarn is strong and durable yet buttery to the touch. While working it, I had minimal issues with splitting, but I would recommend leave at least a six-inch tail for weaving, especially if you're doing open work because I did have an issue with a tail or two falling out after weaving.
What Could I Make with This? Speaking from experience, this yarn is great for jewelry (like this bracelet) and accessories. I could easily imagine this being a dream yarn for creating womens' cowls, scarves, shrugs, shawls, and sweaters. I wouldn't recommend it for children's items because of the washing instructions.
Should I go shopping for this, and if so, where? Well, the retail price is $7.29 for a 65g ball, but shop around because I happened to get mine on a very special clearance deal of $2-3 (depending on color) at a big box store, which made it VERY affordable for what I was making. If you must have some right now (I don't blame you!) you can try this link to Amazon and see how the prices are over there.
I would say definitely give this yarn a try if you want to feel the luxury of silk in your crocheting.
Have you worked with Paton's Silk Bamboo? If so, what did you think? What do you say about the value for price on this yarn? What other information would you like to know about the yarn? Which yarns would you like to see reviewed on Crochet Spot? Please leave your thoughts, ideas, and points of view in the comments below!