How to Weave in Ends – Part 1
By Amy Yarbrough –
1 Comment
The fun of crocheting isn't just in the finished project but the whole process: choosing the project, buying the material, beginning and completing it, and finally, showing it off. Unfortunately, there is one small but significant element that causes most of us some apprehension. And I'm sure you've already guessed what I'm going to say: weaving in ends.
No matter how we may want to get around it, hiding those unsightly yarn tails is a must. You can look for magical ways to avoid this step but as far as the world knows now, you cannot eliminate it. So let's take a look at some of the most common methods.

The first thing to remember is always work on the wrong side of a project if at all possible. This will ensure invisibility and grant you a little freedom to be less cautious. However, some projects do not have a wrong side which means your weaving will be subject to public scrutiny. That's why you should carefully choose the method that will promise the best result.
Many crocheters recommend crocheting over yarn tails, which is a great way to handle them all at once. (Check out Rachel's post How to Minimize Weaving in Ends in Crochet to read more on this method and see some excellent picture examples). And yet, in my opinion, I find this takes considerable concentration to keep it up and time to make it a habit, while in the end you will have at least one tail remaining to weave in.
Along the Side
I like this method the best when the project has a solid border. You'll notice in the picture below the wrong side of the single crochet border is perfect for quickly tucking in a yarn tail on the end of the row. This will be the same with any border that is not openwork or lace.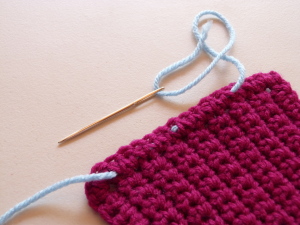 (I've used a contrasting color to show you how it's done, but let me assure you, when using the same color the visibility of the tail will be nearly non-existent.)
If the project doesn't have a border it becomes slightly trickier. Naturally, you don't want the tail to show, so it will be up to you to judge how you would weave it in.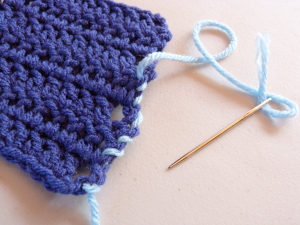 Tip #1: When you are coming to the end of a ball and are going to have to join the next ball of the same color, it is best to do this at the beginning of the row (or end of the last row) even if you may have enough yarn for at least another half row. By keeping all yarn tails at the row ends you will maintain consistency, as well as make it easier for you to choose a method of weaving.
Working along the side is a great choice, and one that I normally prefer to use. But in patterns that demand many color changes, you can end up with the wrong colors in the wrong spot, thus marring your carefully coordinated piece. This is when it becomes essential to weave into the projects stitches. We will discuss how to do this in part two!