Blanket, Throw, or Afghan
By Amy Yarbrough –
4 Comments
While browsing crochet patterns you might have noticed all three terms –blanket, throw, and afghan– referring to very similar projects, and wondered what exactly is the difference. Today I'd like to clarify what each mean for both yarn-lovers as well as the rest of the world.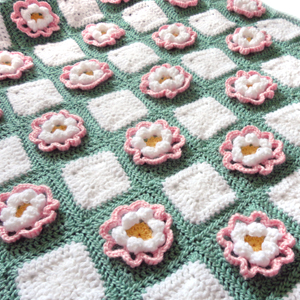 Pop Up Flower Blanket
A Little Added Warmth
First we'll start with what a blanket is. Simply stated, a blanket usually refers to a relatively thin stretch of material, long and wide enough to cover a bed of any size. It's similar to a comforter or bedspread but lacking the thickness. The material can be of any type, like cotton or fleece, but not normally quilted. They're wonderful additions to the bed, especially on cold winter nights!
A Good Book, A Cup of Tea, and the Window Seat
The difference between a blanket and a throw is simply the size. Throws are made for accenting a couch or chair, or wrapping up in on the window seat, so their length is suitable for covering less of you than a blanket. The exact dimensions are relative to the designer, with store bought throws more regular in size and homemade throws subject to change. Just don't forget the tea and a good book! My recommendations – P.G. tips and The Scarlet Pimpernel.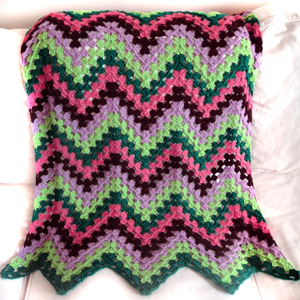 Granny Ripple Blanket
Enter The Crafter's World
Afghans, on the other hand, fall under a different category. This is where crocheters and knitters get the limelight! An afghan is defined by how it is made; more specifically, knitted or crocheted with yarn. Originally they were first made in Afghanistan, hence the name, with a variety of colors, in a variety of patterns and geometric shapes. In today's era, they are no less versatile. Technically, an afghan can range from a blanket or throw to a shawl or scarf, as long as it fits the knitted or crocheted bill, but more often than not, you will find it under the "blanket and throw" category.
Since these are commonly handmade, the length and width as well as style and color choice are left entirely up to the creator. And what a venue for creativity!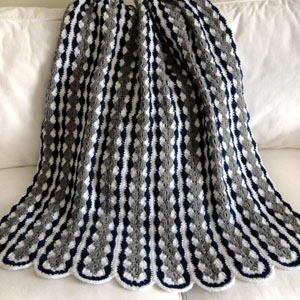 Mile A Minute Shell Blanket
Within the Afghan Division
There are three well-known styles in afghan designing. The mile-a-minute method is defined as using the same stitch continuously. Because of the repetitive simplicity, this choice is excellent for beginners or times when you just want to crochet without dealing with the hassle of keeping up with instructions. After working on an intricate pattern there's nothing I find more enjoyable than sitting down with some lovely colors and working a basic stitch.
But there are times when carrying around a growing project is mighty difficult. That's when the motif method comes in. Most commonly, a motif is a square but sometimes they are other geometric shapes, such as hexagons or even circles. Among square motifs, you most likely have noticed the popularity of the granny square. This design is centuries old and still meets contemporary standards in taste.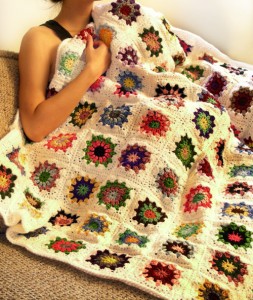 Kaleido Blanket
Once all the motifs are constructed they are then sewn or crocheted together. Therein lies a subject all its own. Which brings me to the third method, called join-as-you-go. In essence, this method combines qualities of the first two. You start with the motif method but join them as you make them, steadily building like the mile-a-minute method. This method may not help you with traveling difficulties but it saves you from the overwhelming feeling you might get when staring at a pile of motifs awaiting attachment. But it's really a matter of opinion. I've told you mine; what's yours?
I hope reading this has given you a better understanding of these three terms for future clarity. If you have any questions or comments be sure and share them below; I'd love to hear from you!