Book Review & Giveaway: Twinkie Chan's Crocheted Abode A La Mode ~ 20 Yummy Crochet Projects for Your Home
By Caissa "Cami" McClinton –
41 Comments
Hello, Crochet Spot friends! I have a real treat for you today. You might be aware of Twinkie Chan from any of her many crochet activities – including her blog, YouTube channel, or seeing her patterns at Michael's or on the Lion Brand website. You may have seen her previous book, Twinkie Chan's Crochet Goodies for Fashion Foodies: 20 Yummy Treats to Wear. Or you may have seen the article I wrote about her innovative crocheted paintings. Perhaps you've run across her clothing line, Yummy You at a local boutique. Without a doubt, Twinkie Chan is a powerful force in crochet, and I've been a big fan since 2010.
All images in this post are property of Twinkie Chan and are used with permission.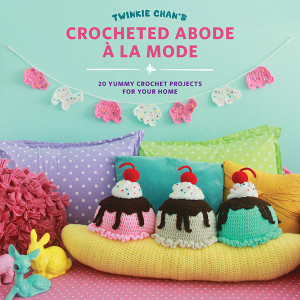 Quarto Publishing just released Twinkie's highly anticipated sophomore book,
Twinkie Chan's Crocheted Abode A La Mode ~ 20 Yummy Crochet Projects for Your Home
and it is chock-full of joyful, exuberant, delicious, crochet fun. I have been rabidly awaiting my review copy since I heard it was available for pre-order. And, we are so very lucky that the publisher is allowing me to give away not just one copy, but three!
I'm giving one away here on Crochet Spot, and two on other blogs. Read to the bottom for full giveaway details.
Like my experience with Twinkie's first book, I want to crochet simply everything in it! I was so inspired I wanted to drop everything and drive to the craft store to pick up some new yarn! However, since we've talked extensively about stashing down I decided to try that first before buying something, and of course I found suitable yarn in my stash for the delectable Allsorts Afghan.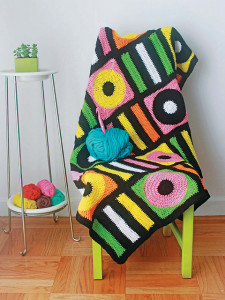 I've already crocheted a few squares and I am loving it. Since Molly has told us that cotton works well in afghans, I was not afraid to deviate from the suggested acrylic yarn and do a mostly cotton version. I may also end up with a beach towel instead of an afghan. Time will tell.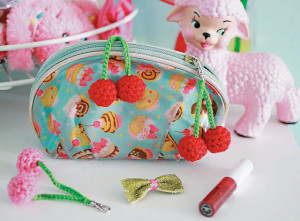 My next project will be the cherry zipper pulls. I have been dying over everything cherry lately. No idea why but I am loving it! Still rooting around in my stash for bits and pieces that would work well and coming up with some great yarns. Since a lot of Twinkie's projects use colorwork or don't require much yarn, they are a great way to use up oddments. You can browse all the patterns in the book on Ravelry.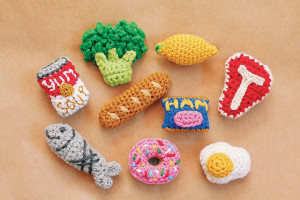 The best way to experience this book is in person, so please enter to win not only here on Crochet Spot, but also on Art, Like Bread and the CGOA Now blog. I am running each giveaway until May 30 so that there is plenty of time to enter. To enter here, please comment here on Crochet Spot. To enter elsewhere, visit these links – Art, Like Bread & CGOA and follow instructions on each post.
If you want to get started crocheting your fun foodstuffs now and simply can not wait, just visit Twinkie's website for any of her scrumptious free patterns. Other Twinkie linkies are: Her active Ravelry group, her blog, her YouTube channel, and her clothing line
You know what else is cool? Twinkie mentioned Crochet Spot in the resource section of both of her books! (We're famous!) Rachel has some great food patterns right here as well, so there are lots of options for crochet gourmands.
So what about you, my friends? Are you excited to crochet up some yum yum? Have you ever crocheted food-themed items? To enter the giveaway, please leave a comment here on this post. The winner will be drawn on May 30 and notified via email. Your email will not be published or shared. Please leave your thoughts, ideas and questions in the comment section below.