Celebrate the Awards Season with Crochet
By Caissa "Cami" McClinton –
1 Comment
I adore pop culture and movie buzz. How about you? It can be fun to host an Oscar or Golden Globes party and why shouldn't crochet be a part of that? I wrote about "Red Carpet Ready" Crochet in 2014 and since the peak of the awards season is upon us, let's take our inspiration from the stars and crochet some fun!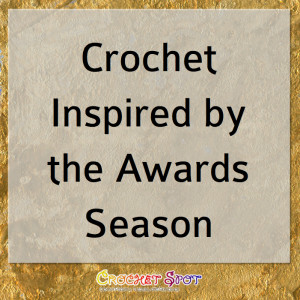 The Golden Globe nominations were announced on December 10 and the awards will be given on January 10, so let's take a look at a few nominees and use them as our crochet inspiration!
Cate Blanchett was nominated for Best Performance by an Actress in a Motion Picture for her performance in Carol. You may remember seeing this photo of Cate Blanchett wearing a granny square dress.
In honor of Cate and her nomination, why not crochet some granny square projects during the Golden Globes? Try the beautiful Granny Square With a Flower as a building block to your project. Beginner? Try a traditional Granny Square using Claire's tutorial. Set your sights on a larger project with Erin's Giant Granny Square Blanket with Clusters. With granny squares, the possibilities are endless.
Our next Golden Globe nominee is Will Smith, who is nominated for Best Performance by an Actor in a Motion Picture Drama for his role in Concussion. Years ago, Smith appeared in the comedy Bad Boys II alongside Martin Lawrence. In the film, Smith sported a crocheted beanie not unlike the one you see below.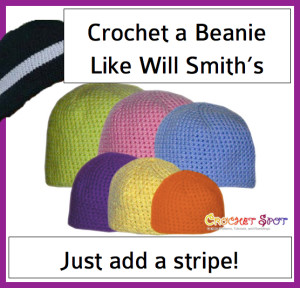 You can use Rachel's Crochet Pattern Family Beanie Set in Six Sizes to crochet a striped beanie like Will's for anyone in the family.
Our final nominee for crochet inspiration is Lily Tomlin, who is nominated for Best Performance by an Actress Musical or Comedy for her role in Grandma. I have loved Lily Tomlin since I was a small child, watching her on reruns of Laugh-In. One of her funny characters was the operator, who you see pictured below.
While in all likelihood, she was wearing a simple hair net which would be visible in a profile, I like to imagine her in a glamorous snood like the one above, which is crocheted in Lover's Knot. While we don't have a snood pattern here on Crochet Spot, you can practice your Lover's Knot by using Rachel's Lover's Knot Loop Scarf or Lover's Knot Triangle Scarf patterns.
So what about you, my friends? Do you love following the awards shows as well? Do you have any special parties or rituals to watch the shows? Remember the Golden Globes on January 10. Oscar nominations will be announced on January 14, and the Oscars will take place on February 28. What will you be crocheting during the shows? Please leave your thoughts, ideas and questions in the comment section below. I always love hearing from you!