Crochet Cardholders for Mr. Credit Card
By Rachel Choi –
2 Comments
After making the cardholder crochet pattern last week, a friend of mine over at AskMrCreditCard.com asked me to make a few for him to give away to his blog readers. Here are the ten crocheted cardholders that I made!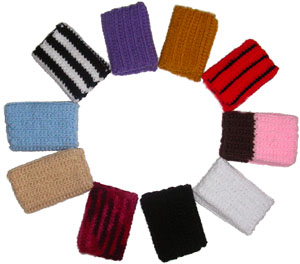 Mr. Credit Card will be giving them away to new subscribers on his blog. So check it out! As a professional financial advisor, he's a great source for credit card info. Just ask him any question and he'll answer it with the brutal truth!
Cardholders are very fast and easy to crochet. I sure had a blast making these!