Crochet Pattern: 5 Simple Soap Savers
By Rachel Choi –
8 Comments
New at the Crochet Spot Store, these 5 simple soap savers each have a unique look and texture. Crochet these soap savers to place your soap bars (or pieces of soap) into to create a nice lather. Soap savers are great for using up every bit of soap and preventing the soap from slipping out of your hand in the shower.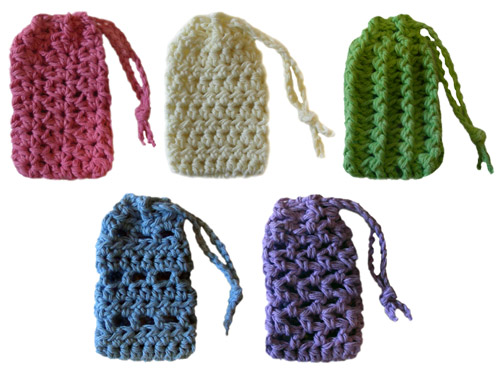 | | |
| --- | --- |
| Skill Level: | |
Finished Size: 4″ (10 cm) tall, 2 3/4″ (7 cm) wide, when flat. Soap savers will stretch.
Size may be adjusted using the instructions within the pattern.
Materials:
Medium Weight Yarn (approximately 50 yards of each color)
Crochet Hook J (6.00 mm)
Download this pattern at the Crochet Spot Store.
Your purchase will help support Crochet Spot!
If you're a Premium Pattern Member, you may download this pattern for free by logging into your store account.
If you need help while crocheting your soap savers, don't worry! Just let me know and I'll help you.