Crochet Pattern: Computer Mouse Toy
By Claire Ortega-Reyes –
8 Comments
I found an interesting post by Rachel here on Crochet Spot: "Do All Crocheters Have Cats?" More interesting are the comments; it turns out that a vast majority of crocheters really do have cats!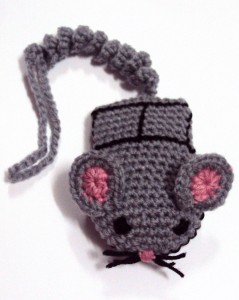 Here's a little something for our wonderful feline companions. Admittedly, Rachel's version is still the best cat toy to make. But this computer mouse is a close second-placer!
I found out that dogs like them, too! Well, at least my Daschund, TJ, does. Maybe add a jingly bell to the strap, to catch your pet's attention better. Or put some catnip in while stuffing the toy, to put your cat on a pleasure trip!
| | |
| --- | --- |
| Skill Level: | |
Finished Size: 3" (7.62 cm) wide x 4.5" (11.43 cm) long at widest point, and excluding strap and handle.

Materials:
Approximately 38 yards (35 m) Medium Weight Yarn in Gray
Scraps of Medium Weight Yarn in Pink and Black
Crochet Hook US F (3.75 mm)
Yarn Needle
Fiberfill
Stitch Marker (optional)
Gauge:
Not important. Crochet tightly so there are no visible spaces in the work. If you plan on using a different weight of yarn, use a hook smaller than recommended for it.
Note:
The body of the toy is made continuously in rounds. Stitch marker is placed at the end of each row; move the marker up as work progresses to keep track of your work.
Need help understanding the abbreviations and symbols? Check out the crochet abbreviation chart!
Crochet Pattern: Computer Mouse Toy
Mouse Body:
Round 1: With gray yarn, ch 2, 6 sc in second ch from hook, place marker: 6 sc
Round 2: 2 sc in each sc around: 12 sc
Round 3: (sc in next sc, 2 sc in next sc) around: 18 sc
Round 4: (sc in next 2 sc, 2 sc in next sc) around: 24 sc
Round 5: (sc in next 3 sc, 2 sc in next sc) around: 30 sc
Rounds 6-11: sc in each sc around: 30 sc
Round 12: (decrease, sc in next 13 sc) twice: 28 sc
Round 13: (decrease, sc in next 12 sc) twice: 26 sc
Round 14: (decrease, sc in next 11 sc) twice: 24 sc
Rounds 15-19: sc in each sc around: 24 sc
Round 20: sl st in next sc, turn, ch 1, sc in next 12 sc, turn: 12 sc
Round 21: ch 1, sc in next 12 sc: 12 sc
Finish off, leaving a long tail for sewing.
Ears (Make two):
Round 1: With pink yarn, ch 3, 10 hdc in third ch from hook: 10 hdc
Round 2: Change to gray, ch 1, 2 sc in each hdc around: 30 sc
Leaving a long tail for sewing, finish off.
Whiskers:
Cut 3 pieces (each measuring about 3″) of black yarn. Cut a longer piece of black yarn (about 8 inches or so) and use this to tie the three shorter pieces together at the center.
Tail/Strap: Ch 70, 3 sc in 36th ch from hook and in each stitch until last. Leaving a long tail for sewing, finish off.
At this point, you should have something like this: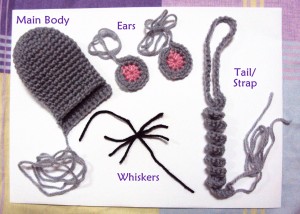 Assembly:
| | |
| --- | --- |
| Pull the two ends of the black yarn tying the whiskers together through different stitches of the first round of the mouse body. Secure it with a sturdy knot on the inside. Thread some pink yarn through yarn needle and sew over the whiskers, making a triangular nose. Using photo as a guide, sew on the eyes above the nose. Sew ears to main body, anchoring 4 sc stitches from the last round of the ears to the main body. | |
| | |
| --- | --- |
| | Thread black yarn into yarn needle. Using photo as guide, embroider along sides of the mouse toy. Stitches should be aligned with the whiskers. Continuing embroidery until the top, sew on the "buttons" of the mouse by sewing down the center for about 5 sc rows. Stuff the toy with fiberfill and catnip (optional). Sew top of toy closed using long tail left off from mouse body. Sew Tail to center of the top of mouse. |
I also found some other helpful pages from Crochet Spot: Amigurumi Tips and Tricks and How to Stuff Amigurumi.
Hope you like it! If you need anything, just leave a comment below and I'll get back to you as soon as I can.