Crochet Pattern: Doily Rug
By Rachel Choi –
2 Comments
I've been wanting to crochet a doily rug for quite some time, but could not decide on the material to crochet it with. Factoring in cost, thickness, and availability, it finally hit me that I can simply use the same yarn that I always crochet with! Medium/worst weight yarn is used in this rug pattern. Medium/worst weight yarn is the most popular weight of yarn there is, and can be found in a variety of colors in any store that sells yarn. To achieve the look of bulky stitches, 3 strands of yarn are held together throughout the entire pattern. In just 22 rounds, you'll have a rug that will show off your crochet skills and make a statement in your house.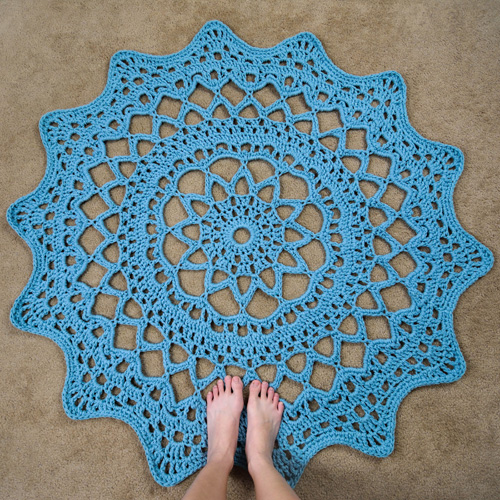 Click here to see full pattern details!
All purchases help to support Crochet Spot and are greatly appreciated! Please log in or create a new account at the Crochet Spot Store to purchase this pattern. Premium Pattern Members may log into the store and download the pattern for free.