Crochet Pattern: Lilac Trellis Mandala
By Rachel Choi –
Be the first to comment
This crochet pattern was requested by several Crochet Spot readers and even named by one. The Lilac Trellis Mandala would make a beautiful addition to your home decor this spring. Crochet it with light weight yarn as recommended in the pattern to create a doily sized mandala that can be used as a trivet or hot pad. If crocheted with medium/worsted weight yarn, it will turn out even larger, about the size of a placemat. Use thinner yarns to create smaller mandalas if you wish. Feel free to crochet the mandala with 3 or more of your favorite colors to give it a different and unique look. The pattern is not recommended for beginners as it will require frequent color changes, and unique stitchery to create the colorful and intricate look.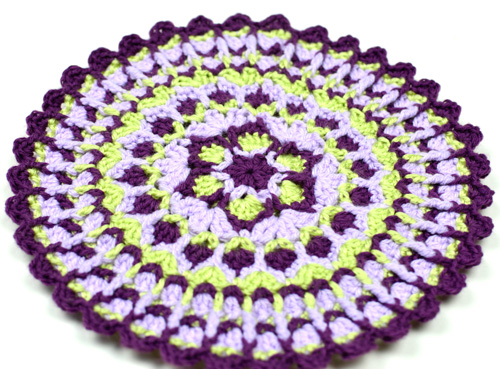 Click here to see full pattern details!
All purchases help to support Crochet Spot and are greatly appreciated! Please log in or create a new account at the Crochet Spot Store to purchase this pattern. Premium Pattern Members may log into the store and download the pattern for free.