Crochet Pattern: Sippy Cup Tether
By Rachel Choi –
Be the first to comment
Is your child in the "throw everything" phase? It's quite a pain in the back bending over and picking that sippy cup off the floor every 20 seconds! Crochet a bunch of these tethers to leash those cups onto a highchair, stroller, car seat, or anywhere else you need. The tether is easy to adjust and can fit around all shapes and sizes of cups and even toys by adjusting the tension in the D-ring fastener. The other end of the tether has a buckle loop to secure the tether in place. The size of the buckle loop can be adjusted by sliding the buckle. Crocheting your own tethers allows you to customize the length as you see fit. You can also change the hardware if you prefer a suction cup or clip instead. No sewing is required for this crochet pattern! Photos are included for attaching and crocheting the hardware onto the tether.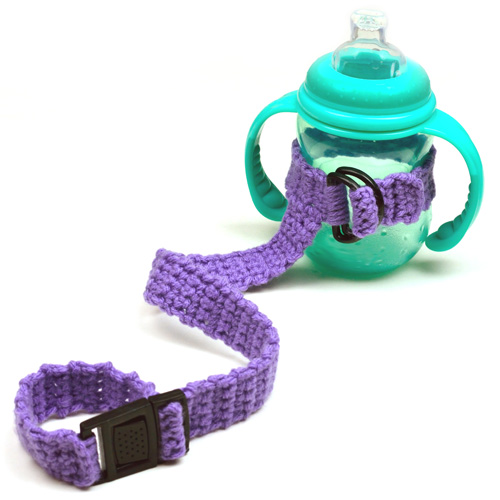 Click here to see full pattern details!
All purchases help to support Crochet Spot and are greatly appreciated! Please log in or create a new account at the Crochet Spot Store to purchase this pattern. Premium Pattern Members may log into the store and download the pattern for free.