Crochet Pattern: Squarenet Scarf
By Claire Ortega-Reyes –
6 Comments
New pattern in the Crochet Spot Store! Sometimes you need to add just that last touch of simple elegance to complete your outfit. An airy scarf is just the trick! Made with size 10 thread, this scarf won't give much warmth, but will definitely put style on cold summer nights or warmer autumn days. Make it in laceweight wool for added warmth, if preferred.

The scarf is made in one piece staring from the main body, to the edging and fringes. Make it to match your favorite outfit, or give them as gifts to friends and family.

Click here to see full pattern details!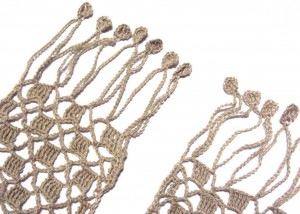 All purchases help to support Crochet Spot and are greatly appreciated! Please log in or create a new account at the Crochet Spot Store to purchase this pattern. Premium Pattern Members may log into the store and download the pattern for free.