Crochet Pattern: V Pendant Necklaces
By Rachel Choi –
Be the first to comment
This set includes 4 V-shaped pendants to crochet: a solid pendant, a striped pendant, and 2 different lacy pendants. Crochet your very own fashion necklaces with these quick patterns. Each V-shaped pendant is quick to crochet, you'll have ready to wear necklaces in no time! I love the contrast between the soft look of crochet with the metal of the necklace chain. But if you prefer an all crocheted necklace, feel free to crochet a chain in place of the metal chain. The chain can be made as long or short as you desire. You can also crochet the pendant in different weights of yarn and/or different hook sizes to create a bigger or smaller pendant.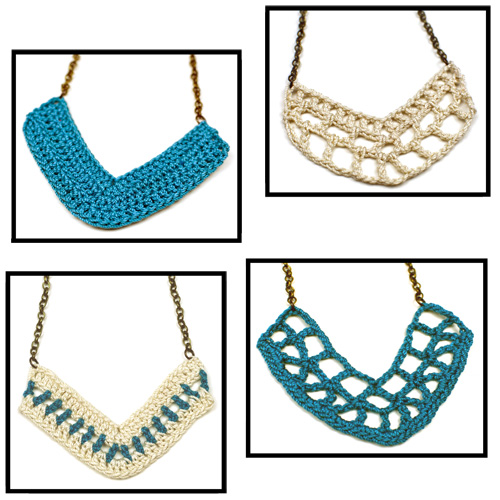 Click here to see full pattern details!
All purchases help to support Crochet Spot and are greatly appreciated! Please log in or create a new account at the
Crochet Spot Store
to purchase this pattern.
Premium Pattern Members
may log into the store and download the pattern for free.