Crochet Pattern: Vertical Eyelet Poncho (9 Sizes)
By Rachel Choi –
2 Comments
This poncho has a classic look that will look great on all different body shapes and sizes this winter! The poncho is crocheted from the top down, seamlessly in the round, in one piece, creating rows of eyelets as you go. The eyelets not only create a simple and beautiful pattern, but helps the crocheter easily keep track of where increases are made. The ribbing texture along the cowl neck collar and the bottom edge of the poncho create a contrast to the lighter feel of the poncho's body. The light (sport) weight yarn used in this pattern creates a nice, easy drape in the poncho's body. The pattern includes 9 sizes, ranging from women's X-Small to 5X, and also includes instructions for adjusting the size if you are in between sizes or simply want a custom fitted poncho.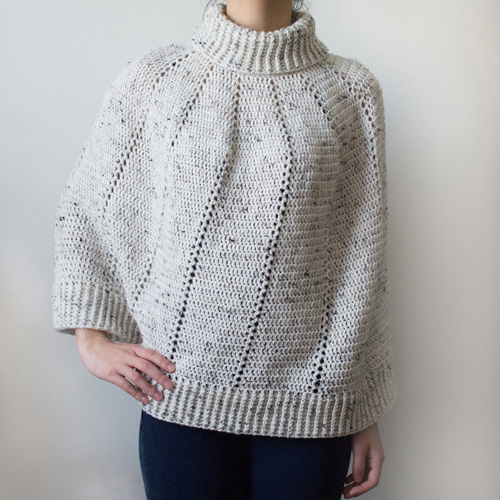 Click here to see full pattern details!
All purchases help to support Crochet Spot and are greatly appreciated! Please log in or create a new account at the Crochet Spot Store to purchase this pattern. Premium Pattern Members may log into the store and download the pattern for free.