Crochet Patterns for Cats
By Rachel Choi –
2 Comments
Recently I wrote about crochet patterns for dogs. Not to worry, I didn't forget about our feline friends! I have 3 cats in my house who all love crocheted items. They probably love them even more than my dogs. If you don't have any kitties at home, you can always crochet for those at your local shelter. There are lots of things you can crochet for cats. Here is a roundup to give you some ideas!

Beds
Cats love to sleep! So make them a place that's comfy to lay. There are a bunch of different cat bed styles, and depending on your cat he/she may like one more than another. My cat, Sunny, is showing off the Super Versatile Cat Bed that I crocheted for her. It can be folded into different shapes depending on her mood.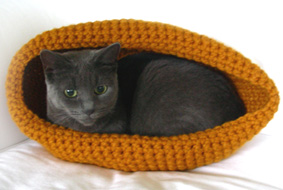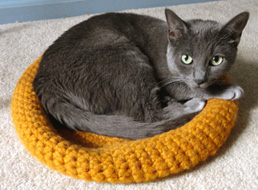 Blankets
Blankets can also be used as beds. You can line your cat's favorite napping areas with a blanket. It will help keep the cat hair off of your furniture if you change it out and wash it every now and then. Small blankets work well if you don't have time to crochet something large. Crochet Spot reader, Kristin, suggested making the blankets using 2 strands of yarn held together for extra thickness and cushion, especially if you are crochet for kitties in the shelter. You can use double thickness with just about any crochet pattern. Check out the Blanket Section for some options.

Toys
Cats like to play too (at least some of them). You can take just about any crochet toy pattern and turn it into a cat toy. Smaller items that are cat-size seem to work better. Add a bell or squeaker to the toy to catify it. If you would like to try some cat specific toys, try the 5 Quick Cat Toys pattern set. Like dogs, some cats can be strong chewers and destroyers, so always play with supervision.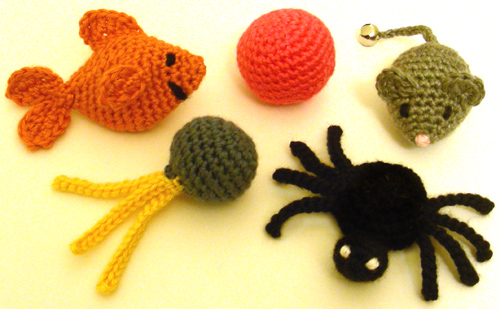 Have you crocheted for your cat? Feel free to share in the comments below!