Crochet Patterns for St. Patrick's Day
By Rachel Choi –
5 Comments
It's never too late or too early to crochet something fun for St. Patrick's Day! Here are some ideas and patterns:
The ultimate St. Patrick's Day crochet pattern is of course the Leprechaun Hat: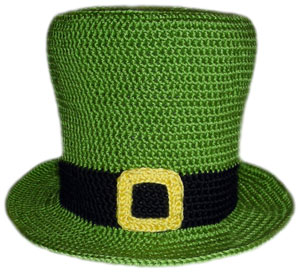 The best part is that you can make everyone one, since the pattern comes in 5 sizes: baby, toddler, child, woman and man. Learn more about this pattern here: Crochet Pattern: Leprechaun Hat – 5 size
If you don't have time to crochet an entire hat, how about crocheting a lucky shamrock? This 4 leaf clover can be used as an applique. Attach it to your shirt, hat or wherever you want. See this pattern here: Crochet Pattern: Four Leaf Clover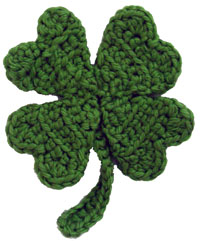 Still need more ideas? Just browse through the Crochet Spot archives for a pattern you like and make it in St. Patrick's Day colors. Simple as that! I'm sure lots of things can look good in green. Plus, you have literally hundreds of Crochet Spot patterns to choose from.
Have you crocheted anything for St. Patty's Day?