Discovering Drape in Crochet
By Amy Yarbrough –
1 Comment
I learned the basics of crochet when I was still young from a booklet I found in our storage. Being naturally inquisitive I found ways to learn more but it wasn't until I was much older that I heard about drape. Now that I understand the concept I realize that I had an idea of how it worked before hand, as the term has some obvious implications. Now, as a crochet teacher, I'd like to help our readers understand what it means, how important it is, and how to achieve it.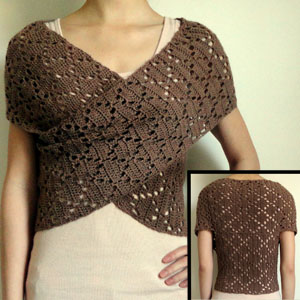 Diamond Eyelet Wrap Sweater
Literally speaking, drape is the way in which fabric hangs. The drapes that you hang in your home are excellent examples of this concept. In crochet, good drape makes your handmade cardigan look like something from a boutique. Drape is the difference between a good design and a bad design. Every other element may fall into place but if you don't achieve the proper drape the project requires your piece won't look right. A project like a wrap or sweater with no drape will stand on its own at worst and be just plain unappealing at best. On the other hand, there are projects that don't need drape, like amigurumis, for instance. An amigurumi is a crocheted or knitted toy that needs a good amount of stability in the fabric, both to hold its shape as well as to keep in the filling. It's pretty safe to say that you need not worry about drape in your amigurumis.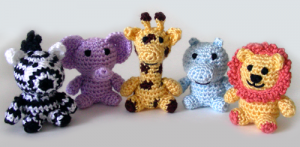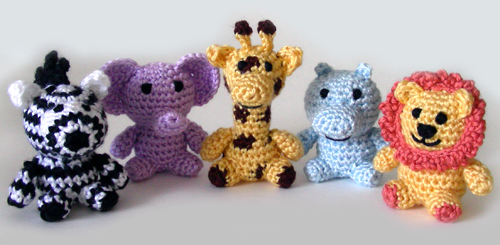 Little Safari Animals
But the question is, how does one achieve this important element?
The stitch you choose is one way. Tall basic stitches and loose stitch patterns –such as the shell stitch, cross stitch, or the V-stitch– are good choices, as opposed to the honeycomb which is not. A lacy stitch pattern will almost always give an accurate drape but don't restrict yourself to lace. I'll tell you why in a moment. You want at least enough freedom in your stitches so they aren't squished and can act naturally.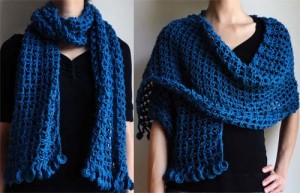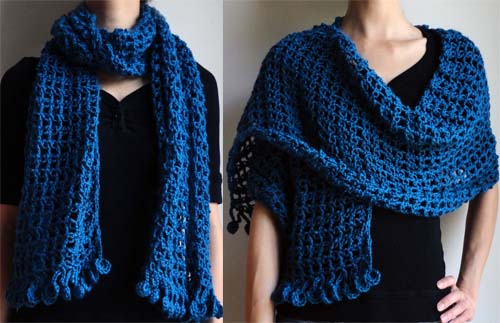 Lover's Knot Wrap
Another way is through the yarn. Specific fibers are especially notable for producing drape while there are some you could afford to avoid. Silk and bamboo yarns are excellent for achieving a good drape because of their soft and light quality. Other recommended yarns are angora, alpaca, and mohair, to name a few. Wool or hardier acrylics are not such good choices if you want to see drape entirely dependent on material. But there's the key I want you to notice.
It is my belief that you can achieve drape with whatever yarn and stitch you use as long as you have chosen the proper hook. It is your gauge that will predict your drape. A hook that works in the yarn with ease and fluidity will give a nice-to-great drape. Using a small size hook will make for a tight gauge while on the flip side, using a large hook might cause you to loose stitch definition altogether. Look at the yarn label, but remember, the recommended hook size is just a suggestion. Keep in mind what you want your project to look like. For a project requiring drape you will most likely have to go up a few sizes more, at the least, than suggested.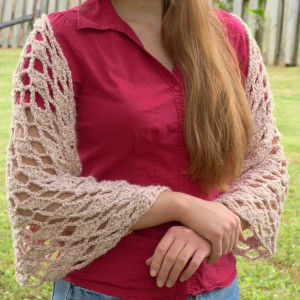 Trellis Wrap
But the best way to know which hook will give you the best gauge for the yarn you've chosen is by making practice swatches. Try a range of hook sizes with your selected yarn and stitch and work up a simple square with each as an example of what it will all look like together. This will tell you which hook will give you the desired drape for your project. And then when you've found the one, go full steam ahead with confidence. They say "practice makes perfect" and I believe experience says it all.
Thanks for reading! As always, I'd love to hear your thoughts on this subject. What are you encounters with draping? Leave your comments below.