The Crochet Foe
By Caissa "Cami" McClinton –
14 Comments
Did you ever have a project that just haunted you? I mean, a project that you were really, really excited about but just fell flat? A project you have labored over for hours and hours only to have it look completely hideous when you put it on?
Let's be honest, folks, they can't all be winners.
Maybe you have guessed by now. I have such a project and I must be a glutton for punishment, because I am considering taking this crazy project up again. I can't let it rest!!!

The project in question is (in theory) a really pretty sweater called the "Lacy Cropped Cardi." No, it's not one of Rachel's amazing designs, rather a sweet little number that innocently graced the cover of Crochet Today magazine years ago. It was my first sweater project. I've since made only one other adult-sized sweater. Yes! I was traumatized by this sweater!!
The sweater has been haunting me since 2009, and I am afraid the only way to put it to rest is by taking the plunge and making it again, but doing it right. In order to avoid the deep trauma that I experienced with the first one, I've taken a moment to analyze my mistakes in the hopes of making my next creation turn out right.
Mistake 1: The substitute yarn. In my defense, I was living in a foreign country where the called-for yarn was not available. I *had* to substitute, but unfortunately, my lack of experience and knowledge led me to substitue a wool and bamboo blend with cotton. Uh, wrong answer. Yeah, I got gauge, but (as I experienced later) cotton stretches and stretches in a way the drapey bamboo/wool would not.
Mistake 2: Taking too long to choose the yarn. Armed with knowledge from podcasts about the importance of swatching, I experimented with a few different options before settling on what I believed was the perfect color and fiber. I was wrong. Oh so wrong. But going through that long and arduous process made my investment in the success of the sweater that much higher, and the sting of failure that much sharper.
Mistake 3: Not matching color lots. Going back to the yarn here… they *looked* like the same color, until the sleeve was a shade darker than the body. There was no going back. I could have lived with that if I hadn't made the next mistake…
Mistake 4: Trying to modify the pattern at the last minute. I didn't notice how terrible it was until I put on the final border. This border was a pretty important design element. The sweater doesn't look good without it, and in my case, didn't look good with it. But at that point, I was feeling very impatient with just getting this sweater over with and on my body, so I did a few things to try to make it look better… They didn't work.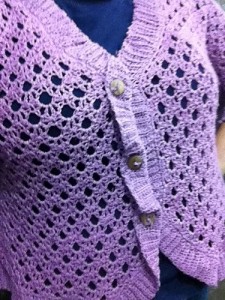 Mistake 5: Being stubborn. Hindsight is 20/20. I should have let go, frogged the sweater, and reclaimed the yarn as soon as I had my border fiasco, but something told me I could fix this sweater. And my stubbornness let me drag this horror on for three years. It's not like I worked on it all the time, but every so often I'd open that drawer where I'd laid it to rest and it would stare at me… It would challenge me. This led me to ripping out the border and trying yet again. BAD IDEA!
I didn't win with this sweater. The sweater didn't win either. It was a lose/lose situation. I don't ever know where it is anymore, and that is probably a good thing. If I see it again, I am just going to get rid of it. I'm not even going to reclaim the yarn!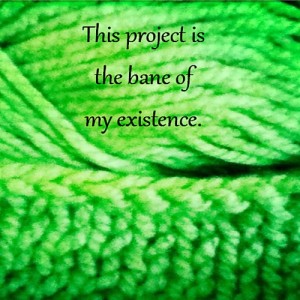 Halloween is approaching and this project is haunting my mind yet again. Dare I try again? Give me your advice in the comments.