How to Choose the Right Yarn for Your Crochet Project
By Rachel Choi –
Be the first to comment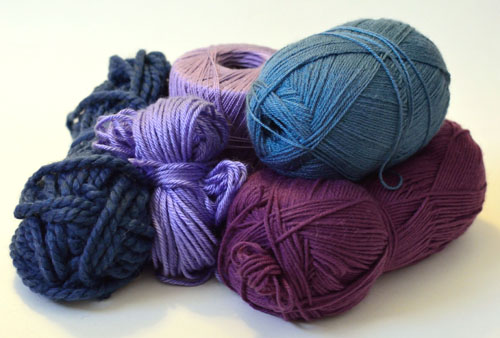 There are a number of factors to look at when choosing yarn for your crochet project. You don't want to spend hours crocheting only to find out you used the wrong yarn when you're done. Save yourself the headache and continue reading so you'll know how to choose the right yarn.

Yarn Weight and Gauge
The first thing to look at is the yarn weight and gauge that the pattern requires. Choose a yarn that is the same weight used in the pattern. Then work the gauge instructions to ensure that you can achieve the correct gauge. Unsure about the different yarn weights? Check out the Types of Yarn page. Not sure what a gauge is? Check out the What the Heck is a Gauge page.
Fiber
Next, decide what fiber you want to use. For everyday crochet items, acrylic is a popular and inexpensive choice. But certain items are best crocheted with cotton, wool, or even a special blend. Acrylics and cotton tend to wash easily, but cotton is more likely to fade over time. And don't forget that natural animal fibers, such as wool, will felt in the wash if not treated.
Color
Bright and bold or subtle and neutral, choose a color that suits your project. The color used in the sample photo of a pattern is a good place to start, but don't limit yourself. Be creative and feel free to use a color the designer didn't. If using multiple colors, check out the Crocheting by Color page and the Favorite Color Combo page.
Brand and Cost
Now that you know the weight of yarn, type of fiber, and color, you can choose the brand that you want to use. Some brands will be more affordable than others. Different brands will also have different colors to choose from. Choose the brand of yarn that meets all of your previous requirements and is within your budget. Check out the Best and Worst Yarn Brands page to see what others are recommending.
What are other factors that you look for when choosing your yarn? Share your experience in the comments below!