Caring for Your Handcrafted Crochet Items
By Caissa "Cami" McClinton –
Be the first to comment
How do you care for your crocheted items? My guess would be that the answer depends upon the materials you used in making your project. While care instructions can be easily found on most yarn labels, I tend to treat my handmade items with a little extra consideration. Today we'll look at some yarn labels and go over two ways to care for your crocheted items.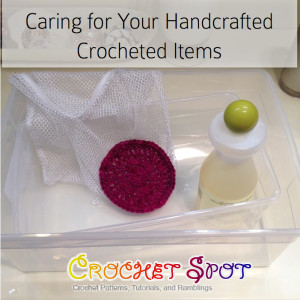 How to Find Care Instructions
Care instructions can be found on your yarn label. Here you can see three different yarn labels with three different care instructions.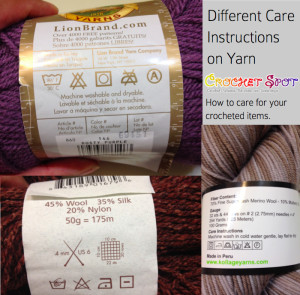 Starting in the top left, you can see this yarn can be washed in the machine, using hot or cold water. It can also be machine dried. This is generally true of 100% acrylic yarns, but depending on the brand and how you use and wash your item, you may experience a change in the texture of your yarn over time. Sometimes this can be a good thing, as acrylics can become pleasingly softer over time. However, if you are happy with the feel of your acrylic item when you finish, you might want to consider hand-washing or using a hosiery bag to protect your machine washed item.
On the bottom left, you can see the yarn should be hand-washed in cool water. The crossed out triangle means it should not be bleached. (Source) It can take a cool iron and should be dried flat. Well, this is pretty straightforward. It appears that the item would run the risk of felting or seriously altering the texture of your project if it is washed in a machine. Therefore, to keep your item looking great, stay away from machine washing for this yarn!
Finally, on the right-hand side, we see a superwash wool with care instructions to wash by machine in cold water on the gentle cycle, and lay flat to dry.
My question to you is this – are you going to remember all of this on laundry day? To simplify my process, I use two basic methods to care for all of my handmade items. And it turns out they're pretty simple.
Machine Wash, Gentle Cycle, Air Dry
Every week I do a load of laundry that is all delicate wash items and each and every one is put inside of a hosiery bag. You can get these everywhere from Ikea to The Dollar Store, and they are very useful in taking care of crocheted items. I'll put my acrylic Wear With All Shrug in a hosiery bag and wash it along with my other delicates. Then I air dry it on a laundry rack. I've had the piece for over three years now and I wear it often. It still looks great.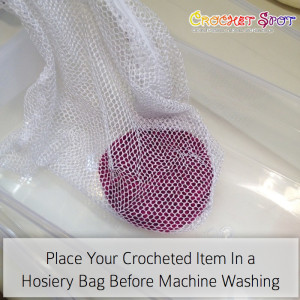 Hand-wash, Air Dry
If I only have one item to wash, or if the item really can't go into the machine, I'll hand-wash it. It may sound like a hassle, but I have a pretty simple method for hand-washing my crocheted items and I am happy to share it here with all of you. For this tutorial, I crocheted a variation of Rachel's Extra Large Coaster (which is a small project), but the same ideas apply for larger items, too.
Materials – a bin or basin, wool wash (I used rinse-free Eucalan), delicate wash, or shampoo, water, a sink or tub, a towel, and your crocheted item!
Note: The wash basin can be really small if your item is small. I use plastic storage bins of many sizes and they work perfectly. Of course I can use them for storage when I am not washing my crochet.
Step One – Place your item in the basin with a capful of wool wash. I use wool wash even if I am working with acrylic yarn. I like the one I use because it is rinse-free.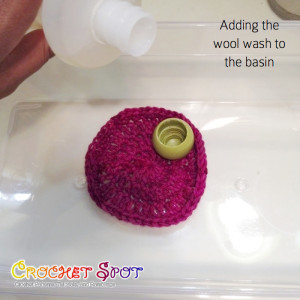 Step Two – Run cool water over your crocheted item and the wool wash. Make sure your item is fully immersed. You can squish the water through your item, but don't go too crazy with agitation, especially if your item is feltable.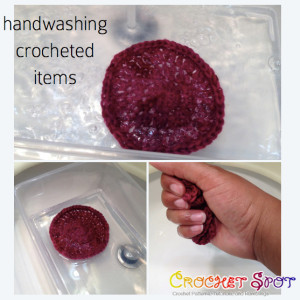 Step Three – Let your item sit for at least 15 minutes.
Step Four – Pour the water out of your basin and into the sink or tub. You can use the sides of the basin to press your crocheted item against with your hands in order to remove some excess water.
If using a wool wash, delicate wash, or shampoo that requires rinsing, repeat steps 2 and 4 with water only until the water is clear of suds.
Step Five – Use your hands to gently squeeze the excess water out of your crocheted item.
Step Six – Fold your item into a towel and roll the towel. Fold the rolled towel in half and press it with your hand (or sit on it if it is bigger) in order to get out the most water possible.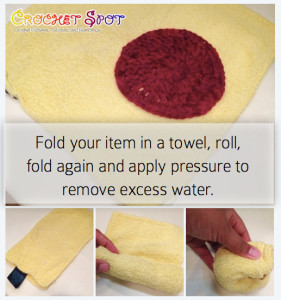 Step Seven – Arrange your item on a flat surface to dry flat or lay over a drying rack until dry.
So what about you, my friends? Do you have any crochet laundering tips? Have you tried this method before? Please leave your thoughts, ideas and questions in the comment section below.