Filet Crochet Basics: Spaces and Blocks
By Candace –
5 Comments
Filet crochet is a technique that uses a series of solid (blocks or solid meshes) and open (spaces or meshes) areas made with chains and crochet stitches (usually dc) to make a pattern. This technique is often done with crochet thread.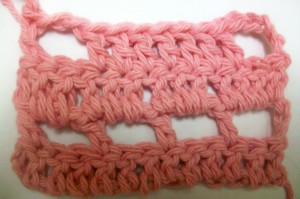 Block/Solid mesh
Some patterns differ in what constitutes each block, which is shown filled in with an X on charts. Many patterns use 4 dc (one dc on each side and 2 dc in the middle). Blocks that are side by side share a common dc, so you subtract one dc from each subsequent block when you count. For example, if your pattern uses 4 dc to make a block and you need 3 blocks, you need to make 10 dc (4+3+3).
To start a row with a 4-dc block, ch 3 (counts as dc), work 3 more dc.
When working a block over a space, work your middle dc in the chain space.
Space/Mesh:
These are formed by a 2-ch space with a st on either side (ch 2, skip 2 sts, dc in next dc) and they are shown as an empty box on charts.
To start a row with a space, ch 5, skip 2 sts, dc in next dc.
These rules are not hard and fast, and some patterns may require different stitches or numbers of stitches for blocks. As always, it's important to carefully read the pattern to determine the correct approach.
If you need more help, feel free to leave a comment!