Free Crochet Pattern: 2-Round Snowflake
By Claire Golden –
6 Comments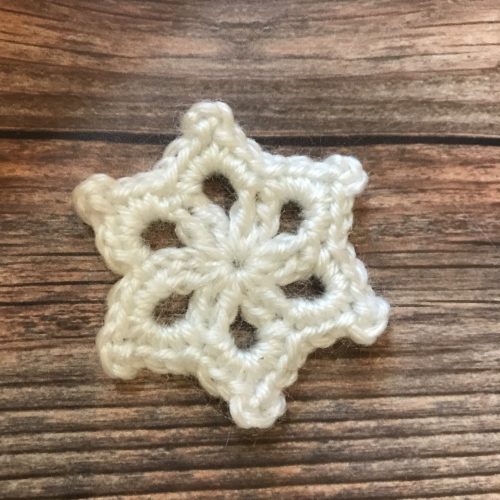 Snow is one of my favorite things about winter. There's something so cozy about watching the snow fall outside while you curl up with a blanket and a crochet project. It doesn't snow much where I live, though, so this little snowflake is my solution. They're perfect for a gift topper, hair clip, or strung together in a garland. With only 2 rounds, you can make a pile of them in a few hours…and these snowflakes won't give you frostbite.
| | |
| --- | --- |
| Skill Level: | |
Finished Size: 3″ (7.5 cm) diameter (measured from point to point)
Materials:
Light Weight Yarn (approximately 5 yards or less)
Crochet Hook F (3.75 mm)
Gauge:
Since the snowflake is so small, it's most efficient to use the snowflake itself as your gauge swatch. Crochet the 2 rounds of the pattern and determine if you like the size. If not, increase or decrease your hook size to make the snowflake bigger or smaller.
Rounds 1-2 in pattern measure 3″ (7.5 cm) in diameter (from point to point).
Need help understanding the abbreviations and symbols? Check out the crochet abbreviation chart.
Crochet Pattern: 2-Round Snowflake
Round 1: Make an adjustable ring, ch 3 (counts as 1 dc), dc in ring, ch 3, *2 dc in ring, ch 3, repeat from * 4 more times, sl st in top of beginning ch-3: 12 dc, 6 ch-spaces
Round 2: ch 1, (3 sc, ch 3, 3 sc) in each ch-space around: 36 sc, 6 ch-spaces
Join to first sc with seamless join and weave in ends.
Need help while crocheting? Feel free to leave a comment below and I'm happy to help!