How To Surface Slip Stitch a Snowflake
By Molly Ferriter –
5 Comments
| | |
| --- | --- |
| For me, the worse part of the Christmas season is the day we have to put away all of our festive and beloved holiday decorations. I mean, who wants to be the people with a Christmas tree up in April? The holiday season is over and here it comes- the winter ennui (that's my "Vocabulary Word of the Day" and it means boredom)! I look around, and within an hour my formerly happy, cozy home looks empty and sullen, with a pile of dead pine needles covering the floor! So this year, when I take down the Christmas décor, I am going to hang up winter décor! | |
Yes, in our house, January will be the month to decorate and celebrate the winter season with a variety of fabulous winter-themed décor such as snowmen, snowflakes, and snow, snow, snow!

My first crocheted piece for the "First Annual Family Winter Celebration" is a table runner, which I embroidered with snowflakes. With every new project, I have sworn to try something knew- a knew stitch, a knew crochet technique, anything I haven't done before. In addition to my crochet addiction, I am an avid embroiderist, so I wanted a project that would marry the two obsessions! So, for this project, I learned how to embroider on the top of a crochet piece using the embroidery slip stitch.
In crochet, embroidering on the top of a piece is referred to as Surface Crochet or Surface Slip Stitch. Check out how to surface crochet HERE. For this post, we will be focusing on the snowflake that I have surface crocheted on each end of my table runner.
How to Surface Crochet a Snowflake:
If you've never worked a surface crochet or suface slip stitch before, check out this tutorial before beginning: How to Crochet: Surface Crochet or Surface Slip Stitch
1. First, you need to create a base piece for your embroidery, crocheted entirely out of single crochets. For my piece, I crocheted a base piece to a size that would fit the middle of my table, about 10″ by 36″.
2. Second, choose the location for the snowflake and surface slip stitch one line. The size of the line depends on how large you want your snowflake to be. My snowflake was about 5 to 6 inches.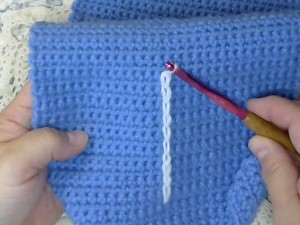 3. Next, you will surface slip stitch the next line perpendicularly.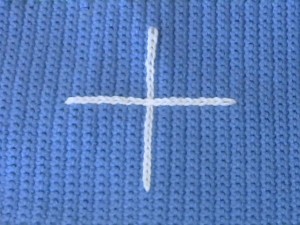 4. Now you will surface slip stitch the first diagonal line.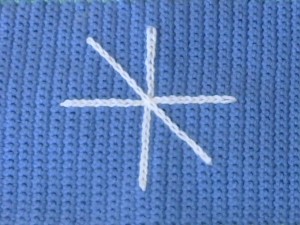 5. Then the next diagonal line.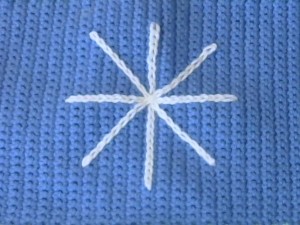 6. Now we get to surface slip stitch the little "spokes" on the first line. (Here's your factoid for the day- most snowflakes exhibit six-fold radial-symmetry. Did you know that? We learn something knew every day!)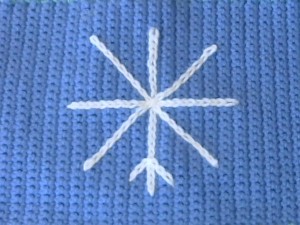 7. Continue adding "spokes" to each line until complete. You're done!

For my table runner, I added a row of single crochets around the edge, followed by a shell-stitch border.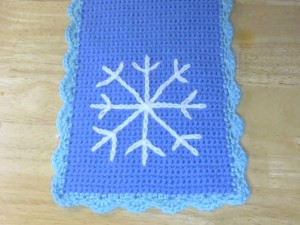 For this surface slip stitched table runner, I used Red Heart Super Saver in Light Periwinkle, White, and Aruba Sea for the border (I'm in love with the Aruba Sea color right now). So let's get busy, Crochetspotters! Let's begin our first annual Winter Celebration Month. There will no longer be any ennui allowed in January! The only question is, how will we decorate for February?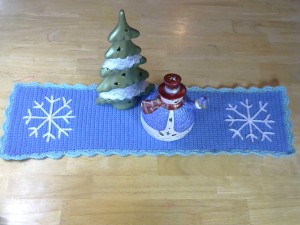 What have you made using this technique? Have you made any items specifically for the winter season?