Friendship Granny Squares – Am I Wearing a Blanket?
By Veronica Smith –
11 Comments
There are several web based groups that hold friendship granny square exchanges. It is a process that is organized and moderated by some kind soul that is willing to put in heaps of hours so others can get joy out of crocheting.
Basically, you join one of these exchanges and you're given an assigned partner and you are asked to send them a crocheted square of a certain size. The one I participated in was for 7 inch squares. You send one to your partner, let's call her Mary, however Mary has been given a different partner and she sends one to him/her. Then another person sends one to you.

The reality is that the person organizing this is a genius in keeping names straight and only gives you a person again when the rest of the group has been allocated to you once already.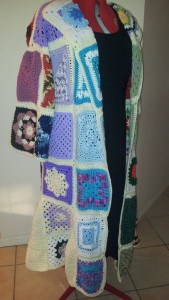 So you give one square and you get one square back. It's a little bundle of sunshine when you open the package you receive in the mail. Some of the squares are from very experienced crocheters and some are from beginners, but all are filled with love. Most of the time a little note accompanies the square with a bit about the person and sometimes a little surprise gift. One Christmas I received a handmade scarf, crocheted towel, teabag, notepad and pencil – WOW.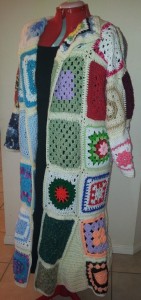 You end up with a lot of squares if you stay with it long enough, I have 67. I crocheted one row of double crochet (treble crochet, if you're in AU) in cream around each to unify them. I then joined them in 8 strips of 8 squares (left three Christmas ones out to applique on to pillows) and then I put them in a plastic box and never finished it. They seemed destined for greater things than a blanket, but I didn't know what.
You have to remember that this was now a box of marvel. Each square contained a story from different people that I probably will never meet. They came from everywhere. Even the different stamps and packaging were fascinating. One came from India in the most amazing package, looked like handmade paper, probably their normal packaging but fascinating to me. Each had history, love and a story from countries I most probably will never visit and most importantly a new found friendship.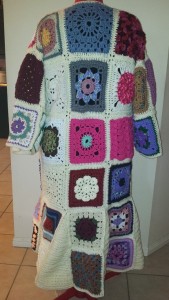 This box has been sitting on the floor of my bedroom for about 18 months now (I don't belong to the exchange any more) and I pulled it out the other day. I decided to make a coat. One of my children says it looks like a dressing gown (thing you wear over your PJ's when your cold). One is happy for me to leave the house in it. Hubby is indifferent.
Remember that there is never a choice in design or colors for the squares, each is a surprise. My coat is the proverbial 'coat of many colors'.
I just thought I'd share this with you as it has given me the same warm fuzzy feeling assembling it as I got as I opened each and every parcel when I received it. Crochet makes you feel good.
If I ever make one again I would maybe make it in specific color's and choose the size of the original squares to fit my measurements more precisely – however this one has a story behind it so it is perfect.
Now all I have to do is wait for it to get cold here. I am in sunny Queensland Australia and on the east coast cold is not something we do. However, there should be about 6-8 weeks of cool enough weather to wear it.