Haven for Hands Crochet Hook Set Review + Coupon
By Rachel Choi –
3 Comments
Do you LOVE new crochet hooks? I know I do! I recently received a new set in the mail from Sarah at Haven for Hands. She asked me to do a review on their brand new hook set. I had a great time playing around with these hooks and will share with you my honest opinion, the good and the bad. Sarah was kind enough to give us an exclusive coupon code, in case you decide you have to have one of these sets! Code NVCEMUFE will give you a 25% off discount on Amazon.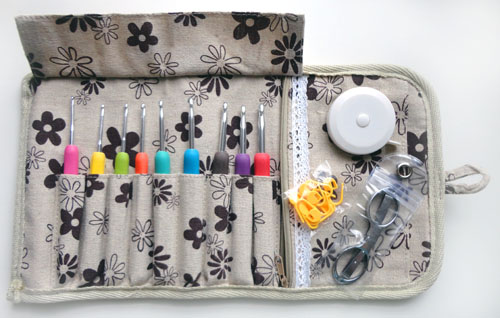 First Impression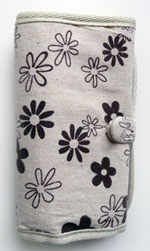 This is such a cute case and hook set! I love the neutral colors of the hook case, and the rainbow of colors on the hook handles. Although this fabric pattern might not be for everyone, it's a winner for me. The side pocket and zippered pocket are great features. The little gadgets that are included in the set are a bonus. There's noting like a new set of pretty hooks to get you excited about crocheting!
Crochet Hooks: Sizing
Let's get right to the most important part of this set, the hooks! There are 9 crochet hooks in this set: J (6.00 mm), I (5.50 mm), H (5.00 mm), 7 (4.50 mm), G (4.00 mm), E (3.50 mm), D (3.00 mm), C (2.50 mm), and B (2.00 mm). Each hook is marked on the handles with the U.S. letter size and the millimeter size. The entire set is in increments of 0.50 mm. Note that the smaller 3 hooks in this set, D (3.00 mm), C (2.50 mm), and B (2.00 mm) are marked with U.S. letter sizing, but the millimeter measurements are different from the standard sizes for those letters. So be careful if a pattern calls for a D, C, or B hook when using this set. I always recommend looking at the millimeter measurements anyway, because there always seems to be discrepancies with the U.S. letter sizes on crochet hooks from brand to brand.
Depending on what you like to crochet, the hooks in this set may or may not be right for you. Personally, I probably won't use the smaller 3 hooks too often and wish they included the K (6.50 mm) which I use for bulkier yarn and the F (3.75 mm) hook which is used in a lot of toy and amigurumi patterns.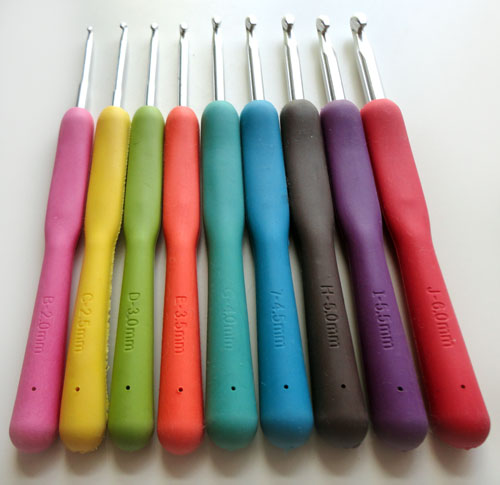 Crochet Hooks: Ergonomics
These hooks are advertised as being ergonomic. Which is great for anyone who has trouble holding the handles of smaller hooks. The handles are a rubbery material so your hand shouldn't slip while holding it. The handles aren't drastically larger than regular hook handles, but they do have some grooves for finger placement.
Let's compare the Haven for Hands ergonomic hooks to other ergonomic hook brands! The Clover brand of ergonomic hooks were extremely popular in the past before newer versions of ergonomic hooks came out. One down fall about the Clover hooks is that the handles are more flat shaped, which can make them uncomfortable to hold depending on the method you hold it. These hooks are more rounded, so may be better suited for folks who aren't fans of the flat Clover hooks. These hooks are really similar to Boye's Crochet Dude ergonomic hooks. They both have the rubbery handles and the rounded shape. One downside about the Boye's Crochet Dude hooks is that the rubbery handles sometime fall off the hooks after long periods of use. I haven't experienced the handles on these hooks falling off while crocheting, but I have noticed some wiggling in the handles while crocheting. The wiggly handle was only apparent on a couple of the hooks I used and not the whole set. I spoke to Sarah about this issue and she told me that the rubber handles are actually designed to be removable. Being removable can be a great feature if you want to adjust the shaft length on your hook, or just take the handle off for any reason.


Crochet Hooks: Quality
The hooks are metal with a rubbery handle. The metal is comparable to other metal crochet hooks. You shouldn't have to worry about your hook snapping, like plastic hooks. The quality of the handle is somewhat questionable. Most of the hooks that came in my set are perfectly fine. But I do have one hook where the finish is fraying at the seam where the front and back of the handle meet. Can you spot the difference in the yellow handle in the crochet hooks photo? The flaw is purely cosmetic and wouldn't stop me from crocheting with the hook. The handles on 3 of the 9 hooks are loose, but again, wouldn't stop me from crocheting with them.
Hook Case
The case is really cute! Did I say that already? It folds into thirds and is secured with a button. Personally, I love the neutral brown color with the flower print. My favorite part of the case are the 2 pockets. One is an open pocket where you can put some note cards or maybe even extra hooks, whatever you want! Then there's the zipper pocket, which is great for all of your small notions.

Quality wise, there are a couple of places on my case where the printed fabric is messed up and there are a few straggly ends of thread that I snipped off. I wouldn't call this a deal breaker though. For me it's one of those cases that I can throw into my bag and not care if it gets messed up. It is meant to be used not just look pretty sitting on the table.
Extra Gadgets
In the zippered pocket you will find a measuring tape, portable folding scissors, and a set of 10 plastic stitch markers.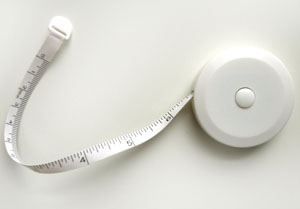 The measuring tape is your everyday, plastic, light weight, flexible, retractile tape measure. It's nothing fancy, it gets the job done whenever you need to measure something, your gauge, yourself, your crocheted item, etc. The measuring tape is identical to my current measuring tape of choice, which is why I like it.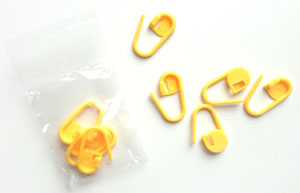 The stitch markers are like little plastic safety pins. They also aren't fancy, and are prefect for getting the job done. They are much better than the plastic slip ring type stitch markers, which fall out of your work if you aren't careful. I'm glad they decided to include the safety pin type markers instead. I do wish that they included a reusable baggie, but the plastic packaging will have to do.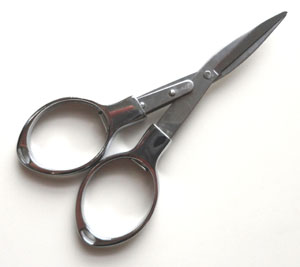 The mini scissors are surprisingly sharp and sturdy. One of the blades is even serrated. The scissors can be a little tricky to fold and unfold. I'm a little embarrassed that I almost stabbed myself the first time I tried to unfold it! After practicing a couple times, it is definitely a lot easier, but folding it closed is still tough. Hopefully with time the scissors will "loosen up" and be easier to fold closed.
Is this set for you?
This set has its pros and cons. I think it would make a great first crochet hook set for someone who wants ergonomic hooks. It has all the basics that you need to get started crocheting and if you already have crochet hooks, the different sizes can add to your collection. You'll most likely find the little gadgets useful too! As I write this review today, the price of these hooks are much cheaper than comparable ergonomic hook sets.
Thanks again to Sarah at Haven for Hands for sending over this awesome hook set for me to play around with! She told me, "We do carry a guarantee on the product so that if anyone has a set they're not happy with, we will refund their money AND send an additional set if they'd like. Happy customers are extremely important to us!"
Coupon Code – 25% OFF
Feel free to use this 25% OFF Amazon coupon code that Sarah provided for us (only good until October 17, 2015 at 11:59 pm PDT):
Go to Amazon with this link: Haven for Hands Crochet Hook Set
Add the hook set to your cart and check out.
At checkout there will be an option to enter in a coupon code. Enter the code and press the "Apply" button. The code is: NVCEMUFE
Update: The coupon code has been extended to 10/24/15 at 11:59 pm PDT, because the hook set was temporarily sold out! There should be more in stock in the next few days, so feel free to check back.
What do you think of this crochet hook set? Feel free to leave your remarks in the comments section below!