How to Crochet: Forward Pass Tunisian Decrease
By Candace –
Be the first to comment
Decreases in Tunisian crochet can be worked on either the forward pass or the return pass. The forward pass decrease is easy to do, but is best suited for the Tunisian Simple stitch or other stitches that are worked in the vertical bar. This tutorial shows a forward pass decrease worked in Tunisian simple stitch.

If you are left-handed, you can hover your cursor over the pictures for a different view.
Work your forward pass up to where you want to decrease then insert your hook under the next two or more vertical bars.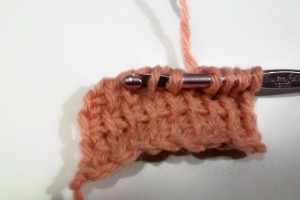 Yarn over and pull up the loop.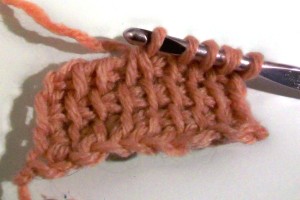 Continue working the rest of your row then work the return pass as normal.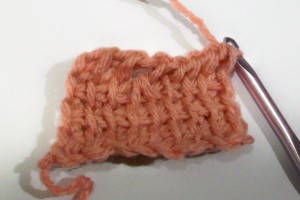 Note that there appears to be a small gap after the decrease. That will close up and look fine once the next row is worked. Another feature of this decrease is the upside-down V that slants to the left (or right, if you're left-handed) where the two vertical bars were worked together.
If you need more help with this decrease, leave a comment for an explanation.