How to Crochet: Long Double Crochet (ldc)
By Amy Yarbrough –
9 Comments
There are certain things I do without intention and one of them is recognizing crochet or finding crochet inspiration in the movies. And I know I am not the only one. (See this post by Cami for example). What I noticed lately inspired me to design my new pattern, the Abigail Hat and Scarf. The pattern uses a very basic stitch to which I've added a "twist". If you want to know how to make it follow along and I'll show you.

Mouse over pictures for a left-handed view.
What to Do
Choose your favorite yarn and a hook a little larger than the yarn weight calls for. In this example I'll start by chaining 17, but you can really use any length that you desire.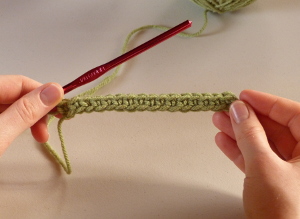 Step 1: Sc in second ch from hook and in each ch across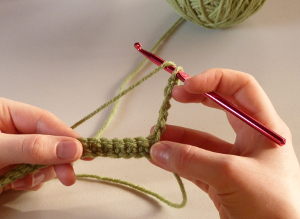 Step 2: Chain 6 and turn. This ch-6 will count as one long double crochet (ldc).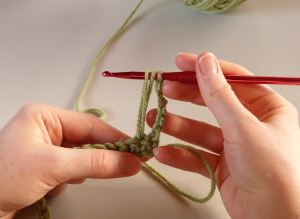 Step 3: Yarn over and pull up a loop in the second sc. Pull the loop up almost to the length of the chain 6.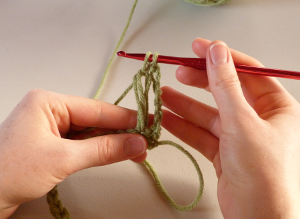 Step 4: Yarn over once and pull through the first two loops.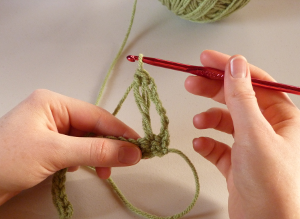 Step 5: Yarn over again and pull through the last two loops on hook. You have now officially made a long double crochet.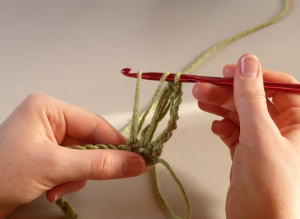 Step 6: To make another long double crochet, yarn over. In next single crochet, pull up a loop nearly the length of the last ldc.
Step 7: Yarn over and pull through first two loops.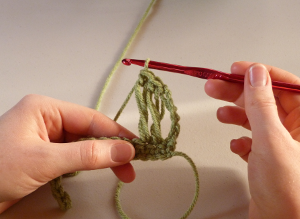 Step 8: Yarn over again and pull through last two loops.
Another ldc is complete! Repeat steps 6-8 for the rest of the row.
And this is what you should see. A full row of lacy stitches that look complicated but are really very simple. If they look a little scruffy then just give the stitches a little tug and they should straighten out. But remember, sometimes the disheveled look is just what you need.
If you have any questions leave me a comment below and I'll get back with you as soon as possible.