How to Line to a Crocheted Bag
By Rachel Lendyak-Peters –
11 Comments
| | |
| --- | --- |
| We put so much thought, energy and love into our projects, so it may be a little disheartening when your beautiful crocheted bag just isn't doing the job you want it to do. There is a simple solution though: A fabric lining! I know what you're thinking – If this requires a sewing machine, count me out. Don't be intimidated. I already know you are super crafty because you are reading this page. | |
Why not expand your horizons a bit! The best part is that since the lining is on the inside, little mistakes will go completely unnoticed!

The first (and my favorite) step is choosing your fabric. You could keep close to your color scheme with a nice solid or subtle print, or go bold to add a pop of excitement and personality to your piece. Once you've selected your fabric, fold it with the right sides together and line the bottom of your bag up with the bottom fold.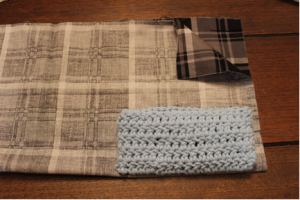 If you are a Type A personality, precisely measure the height and length of your bag, adding ¼ inch for a seam and cut your fabric using the bottom fold for the bottom of the bag. Or if you are like me, line the bottom of the bag with the fold of the fabric and just eyeball it.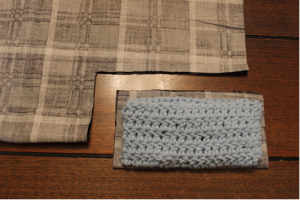 Fold and iron ¼ inch seam on top and bottom. Sew.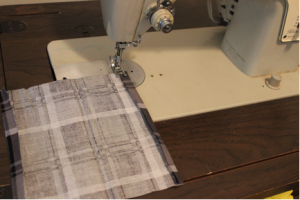 *NOTE* If you want to add a pocket now is a good time. Just cut a piece of fabric to the desired size. Seam the edges. Sew onto the right side of the fabric.
With right sides together, pin and sew up the sides. Then open and flatten seams with an iron.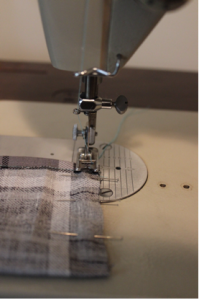 To attach the lining to your bag, place your lining inside your bag. Remember the right sides will still be together and facing in since that is what you want showing! I used a simple running stitch along the top because it is kind of hidden in the seam stitching. But if you are more comfortable with fancier stitch, go for it!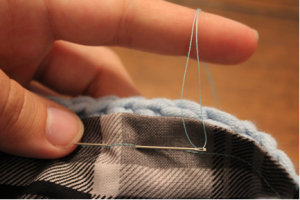 I like to add a couple quick stitches to the bottom of the bag to keep the lining from popping inside out like your pants pocket.
Voila!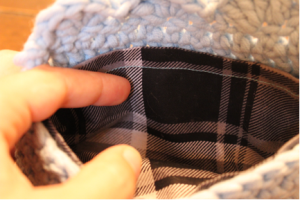 If you have questions or need help with lining your bag, feel free to leave a comment below!