How to Roll Up a Crocheted Rose
By Rachel Choi –
29 Comments
Recently I've gotten quite a few request for some pictures of how to roll up the crocheted rose. The rose that I will be rolling up is from my original crochet rose pattern. If you are new to reading crochet patterns, you may find the detailed explanation of the crochet rose pattern useful, since it explains the rose pattern without the abbreviations.
There isn't an absolute right or wrong way to roll up a rose. Here is the way that I did it.
First I leave some extra yarn at the end of the rose for sewing later.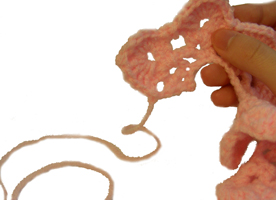 I start with the end that doesn't have the extra yarn and roll the first petal to make the center.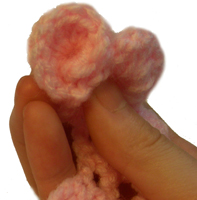 I wrap the next 2 petals around it.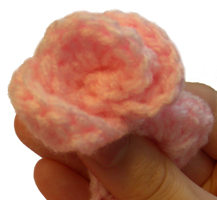 Then the next 3 petals around that. Each time I wrap around I try to hold the center tight and make each round looser and looser. (don't mind my thumb, I was trying to hold the rose from unraveling)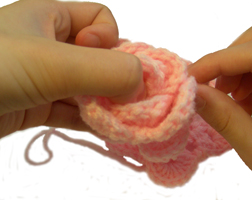 Then the next 4 petals around that. Try to stagger your petals so that petals from each around don't line up with petals from previous rounds.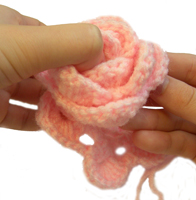 Then lay the rest of the petals underneath the other rose petals.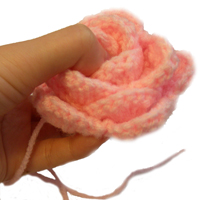 Lastly, use the extra yarn and sew the flower together. Weave the yarn needle through the bottom of the rose and also into the different rounds of petals made. Remember there isn't an exact science for rolling up a rose, so just play around with it and find what works best for you.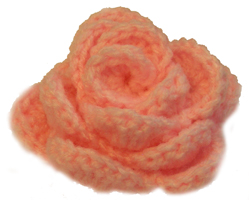 If you still need help with rolling up a crocheted rose, let me know by leaving a comment and I would be glad to help!