How to STOP Buying Yarn
By Rachel Choi –
11 Comments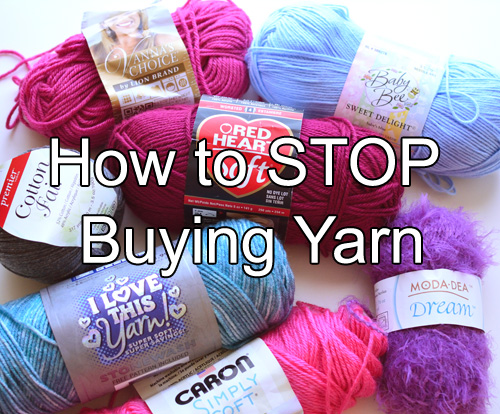 Why would someone ever want to stop buying yarn? Perhaps you're on a tight budget or you already have an entire closet or room full of yarn you haven't used yet. While this post's title might seem ridiculous to some, I know there are a bunch of yarnaholics out there that might need a little (okay, more like a lot) of help taming their buying impulses.

So how do you stop buying yarn? Here are a few tips below. Feel free to share your ideas in the comments and see what others are saying!
1. Make your current yarn more accessible and organized. If you're stash is large, try organizing your yarn so that you can easily see what you have and reach what you need. Without the hassle of digging through multiple bins of yarn to find what you need, using up your stash is much easier to do.
2. Find projects that use your existing yarn stash. If you come across a pattern that you must crochet, try to match it up with a skein of yarn you already have that's waiting to be used. If you don't have a suitable yarn match, put the pattern at the end of your to-do list for now (see step 6).
3. Crochet Scrap Yarn Projects. Scarp yarn projects, as the name implies, uses scraps of yarn. We all have those random, leftover scraps so why not put them to use? Scrap yarn projects can be small items such as coasters, appliques, or even jewelry. It can even be a large blanket that uses small amounts of a lot of colors, such as the Kaleido Blanket.
4. Stop teasing yourself by visiting craft stores. Every time I walk into a craft store, even if it's not to purchase yarn, I end up in the yarn aisles. I'm guessing it's the same for you. So don't even bother taking the trip to the store (or visiting a yarn website) if you're on a yarn buying hiatus. When the itch to visit the craft store comes around, and it will come, open up your existing stash and admire that instead.
5. Trade yarn instead. You don't need to buy yarn to get it. Maybe you have a friend (online friends count too) that has a perfect colored yarn for your project and you may have something she just loves. Do a switcheroo and the problem is solved.
6. Budget how much you can purchase each month. Okay, this isn't actually stopping the buying, but it can help to limit the habit of purchasing too much. Set a goal and stick to it. Maybe even give yourself a reward for being under budget, such as an extra few hours of crochet time!
Do you have tips to thwart yarn buying? Are you a yarnaholic? Leave your comments below!