8 Scrap Yarn Crochet Project Ideas
By Rachel Choi –
Be the first to comment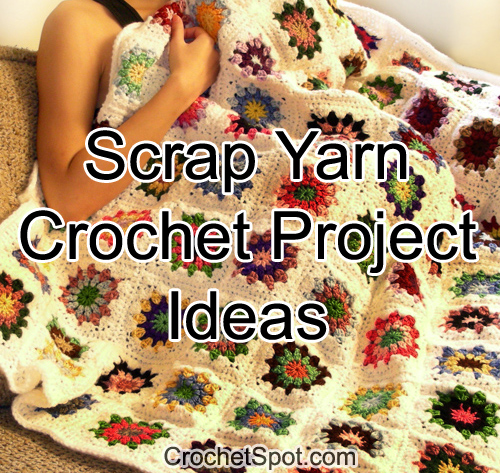 Ever wonder what to do with all those leftover scraps of yarn? No one wants to waste the last bit of yarn that's leftover after crocheting a project. Whether you only have a couple yards or a quarter of a skein left, you can use the scraps for small crochet projects. In this post I'll discuss a few project ideas to use up your yarn scraps.

Facial Cleaning Pads – Facial pads are super tiny and quick to crochet. I use them to wash my face and remove makeup. You can reuse them by tossing them in the washing machine. The facial cleaning pad crochet pattern is simple to crochet!
Jewelry – Jewlery is usually small so it doesn't require lots of yarn. There are many styles and patterns to choose from. One of my favorites is the Jingle Bells Bracelet which is great for Christmas season. Substitute the bells with beads or use a different weight and color of yarn for a completely different look.
Keychains – Who would have thought to crochet a keychain? Crochet your favorite applique and use it as a keychain. You can also use the Chapstick Keychain crochet pattern if you're always loosing your lip balm.
Coasters – Coasters are an easy way to spruce up your home decor and use up the last bits of yarn. We have lots of coaster patterns on the site. The Classic Square Coaster is one of my favorites, because you can easily crochet it in solid or in multiple colors.
Bows – Hair bows, bow ties, bows for every occasion! Try the Variety Bow Set to get all the bows you'll need.
Bookmarks – If you or someone you know is a bookworm that still reads hard copies of books, here is a project idea for you! Check out our list of bookmark crochet patterns (we have way too many to list here).
Scrap Blanket – An entire blanket made with scrap yarn? The Kaleido Blanket is one example of a colorful blanket that uses a bunch of scrap yarn.
Appliques – Last, but not least, there are a vast number of appliques to crochet. From flowers, to animals, to goofy objects, the ideas are endless. Check out all of our applique crochet patterns for ideas!
Do you have scrap yarn project ideas to share? Feel free to leave your ideas in the comments below!