Crochet Spot Stash-Bustin' Pattern Round-Up
By Caissa "Cami" McClinton –
2 Comments
Perhaps the best part of stashing down is rediscovering skeins of yarn that you can now put to work! This pattern round up is designed to help you use favorite yarn oddments quickly, and also to blaze through large yarn lots in no time.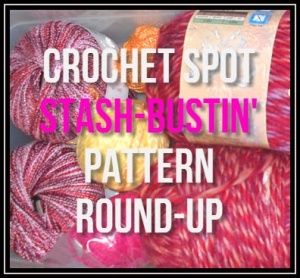 Crochet a Rug! Crochet Spotter Gloria suggested rugs as a great way to use up stash! Cecelia Knuckles crochets mats for an animal shelter using 3 strands of yarn held together. I think that Rachel's Free Rug with Ridges Pattern would work in either case. Please Note: If you're using 3 strands of yarn held together, you will probably need to increase your hook size as well with this pattern.
Scarves. Judy said she organized her stash and crocheted scarves to sell! Now that is a great way of turning your "mess" into cash! I think Amy's Vanilla Cream Infinity Scarf is just gorgeous and completely on trend. Erin's Timeless Scarf is definitely a winner- fun, stylish, and free! You can't beat that for stash busting! Rachel's Lovers' Knot Triangle Scarf lets you experiment with yet another scarf shape and stitch. Its delicate lace will be a joy to create.
Blankets. I crocheted a blanket once and it took up a LOT of yarn! With that in mind, those of us with just tons of yarn can use these beautiful patterns to make a significant dent in the stash! The Giant Granny Square Blanket with Clusters will keep you busy and very warm! The Mile a Minute Shell Blanket's construction is novel and helps you crochet on the go! The Granny Ripple Blanket is a clever cross between two iconic patterns – the granny square and the chevron. This pattern is perfect for stray skeins. The Diamond Eyelet Blanket looks so good and it is one of Rachel's favorites!
Other Great Projects. To cover up in warmer climates, try the Swimsuit Coverup in 9 Sizes. It is cute and easier than it looks! It is not too early to start the Ruffle Christmas Tree Skirt! If you are like me, you may find some Christmas Holiday yarn in your stash. Why not get a head start on the holidays? The Cardholder is a perfect way to use up oddments and partial skeins. These are always great to have around as credit card holders, or to "wrap" gift cards.
In your opinion, which one of these is the best stash buster? As always, if you have any questions, thoughts or ideas, please leave a comment below!