Stash Busting Tip: Double-Stranded Crochet!
By Caissa "Cami" McClinton –
6 Comments
I am very excited to share a technique I recently rediscovered while working on my newest crocheted shawl for spring. The technique is called "double stranding." It is actually quite simple and it can really come in handy when you're trying to stash down (as I still am doing!)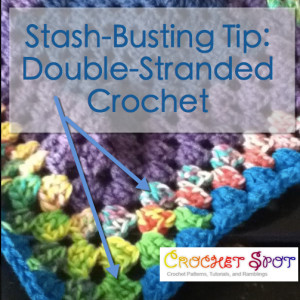 The first time I had ever heard of this technique was in the classic Yeehaw Lady pattern from the influential crochet manual Stitch 'n Bitch Crochet: The Happy Hooker.
As a complete crochet newbie, I worked through the instruction part of the book making swatch after swatch. When it came time to actually read a pattern and make something bigger than a 4″ x 4″ swatch, I came across the hat pattern and thought it looked intriguing. However, I was completely intimidated by instruction to work the hat using two strands of yarn together. It seems silly to say that now, but I had never heard of it back then and I wasn't sure how it worked.
So, for any newbies out there who have never done it, I will explain what it is and why it's such a great stash buster. To work double stranded crochet, you simply need to take two strands of yarn and hold them together as one. That means when you make your slip knot, you're going to have two loops on the hook. When you yarn over, you'll pass both strands of the working yarn over the hook and pull through that double loop. As you chain you'll see that double stranded crochet is not all that different from regular crochet. The yarn isn't that hard to keep together and once you master this technique, the yarn combinations are endless!
As a stash-busting tool, double stranded crochet can not be beat. In my most recent project, I held two pieces of fingering yarn together to match the thickness of a worsted weight yarn. I wound the hank into a center-pull ball and then worked from both ends! In the picture above, the arrows are pointing to two strands of sock yarn held together to match the thickness of a worsted weight yarn. Lion Brand posted a handy guide to match yarn weights, but I think that the best method is seeing how your yarn combinations feel on your hook.
I am dying to hear about your adventures in double stranded crochet. Have you ever tried it before? Which yarn combinations are your favorite? Please leave your thoughts, ideas and questions in the comment section below.